Rapid Internet of Things Evaluations are Trending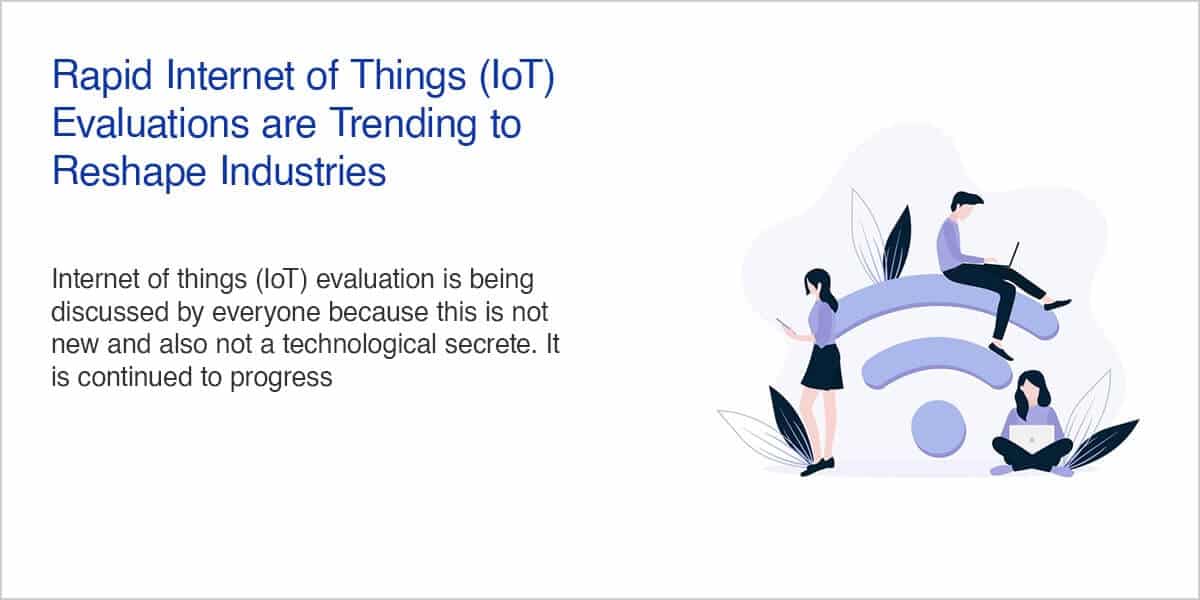 IoT is evaluating over a few years and still continued to make rapid progress in different industries and states of life. It is evolving with the support of connected sensors and devices. As we know that
internet of things (IoT)
is all about connected gadget and devices. But still, there is a lot to know about it because it hasn't revealed all of its aspects, therefore, evaluation is continued as it is needed.IoT evolution is not just about the improvement is device connectivity by providing direction through smartphones. Real-time innovation is its huge landscape that has given birth to different revolutionary concepts including Industrial IoT, Smart City, Smart Home and Connected Vehicles etc. From personal places to the public and then workplace environment, internet of things and its strong connected gadgets are continuously offering opportunities to build smart connectivity through an automation. All internet of things (IoT) app development companies should be well aware of all new and upcoming trends to improve their output and participate in the market competition.Here we are going to explain the key trends of marvelous IOT evaluations that are reshaping the entire digital landscape through connected gadgets, environment and sensors.
Enormous Investments
It has been already declared that IoT projects are going to have huge investments in the coming years. Startups are coming with innovating applications and hundreds of connected gadgets. In order to have a strongly connected environment, huge investment is needed to accomplish your goal. Such an investment is going to open an unlimited number of opportunities for your startup and small businesses. Artificial intelligence has already encouraged people to improve machine learning. Human inputs, direct interactions, and AI involvement are contributing towards continued success. Following factors are rapidly contributing in rapid success of IoT:
Internet of Things (IoT) has raised the software collaboration with hardware in an innovative way.
Groundbreaking technologies are involvement leading to
IoT presence and revolution couldn't be ignored because it has modified things accordingly in the form of industrial IoT, smart city, smart home and a lot.
It is allowing users to control all of their devices with an ease of collaboration. It is successfully revolutionizing the experience for users with gadgets.
Blockchain and IoT
Internet of things has centralized complete control with ease of accessibility of protocols. These things are undeniably for user's benefit but also can cause data breaches and security threats. Cyber-attacks are exposed several times in the past due to IoT networking. In order to overcome such problems, data architecture of Blockchain can be used. Blockchain is one of the most reliable approaches to complete IoT challenges. Here are a few significant reasons behind such adoption:
Distributed databases are being offered through Blockchain, so it remains easy to access for everyone. The access is not just easy but has a complete verified process for everyone.
Data is stored in the form of blocks, therefore, its control is provided through private keys so, the security maintained at the highest
Single point failure is easy to control because you're finding no single authority authentication.
No one can edit or make any sort of changes in data because it just allows adding a new So, no more data tempering.
Next level of IoT solutions is bounded with Blockchain that already has huge database infrastructure.
Healthcare Connectivity
While talking about Internet of things (IoT), this is a time to remember its greatest promise that related to healthcare solutions. Technology is making massive efforts to facilitate with the establishment of smart healthcare management through connected gadgets and software. Already smart billing is introduced in different medical applications. Existing solutions are offering wide benefits with improved efficiency. IoT is working more to improve healthcare standards and led to unlimited innovations. Some of the significant approaches of the smart healthcare industry that give benefit to all stakeholders equally:
Smartphone applications are capable to monitor patient's all activates to ensure prompt health treatment and lower down its cost.
All available healthcare equipment is saving quality time and enabling on-time patient care at crucial scenarios.
A strongly connected healthcare system help in avoiding unnecessary delays of drug supply and medical treatment.
Healthcare care is collected and processed according to the department's
Billing process ensures efficient insurance claims and speeds up the entire process.
Bottom Line
Aforementioned trends are discussed and can also be considered as an overview of the internet of things (IoT) opportunities in the healthcare department. It is going to expand in a lot of other areas and improving business strategies.
SolutionDots Systems is proudly offering all IoT solutions for its valuable customers and working to stay trendy. So, just ping us for any sort of information.

Connect With Us
Search
Recent Posts