Building a connection among things drives positive results
Strong Devices Collaboration – Excellent Outcomes
Internet of Things (IoT) is the extension of internet connectivity into physical devices forming a network of including buildings, vehicles, electronics and much more. It helps in enhancing the potential of the connected business as well as home infrastructure. IoT is an integrated solution that offers exclusive services across businesses from scratch to end. Helps devices to communicate and interact over the internet and you can monitor them remotely.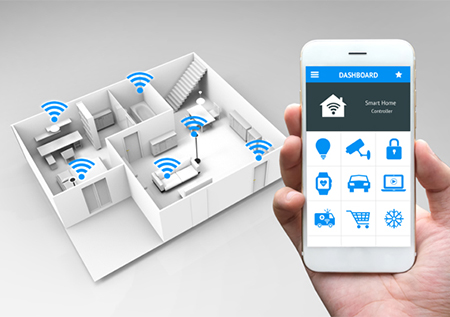 Consumer & Home IoT
Smart Homes
Smart home implementation through custom multitenant platforms authorized with sensual acknowledgment as well as language, speech, and computer vision. Helps to control lighting, climate, entertainment systems, security alarms, and appliances.

Wearables
Wearable consumer devices along with sensors to support your clients in enumerating themselves and surroundings. Web and mobile application are designed for advanced wearables.
Healthcare Devices
Healthcare services with customized IoT solutions as per your demand that enhance patient treatment through location tracking, communication proficiencies, and remote monitoring.
Connected Cars
We provide automation services for Full-featured, flexible implanted intelligent car platforms. Advance connected navigation solutions are provided to breathe automation into next-generation vehicles.
Enhance Your Outcomes with Our IoT services
IoT Services
All operational network is transformed into industrial networks by our advance IOT services.
IoT Advisory
Our technical advisors guide and provide support to the businesses in the alignment of their security, compliance and threat management to accomplish goals.
IoT Utility Services
We support and provide a backbone to the businesses in addressing various challenges to meet the requirements of the modern era.
Technical
Advance your business efficiency, Cut down support cost, and enhance your network availability with our outstanding solutions along with comprehensive technical support.