Cloud Security and Integrity – Responsibility of Cloud Vendor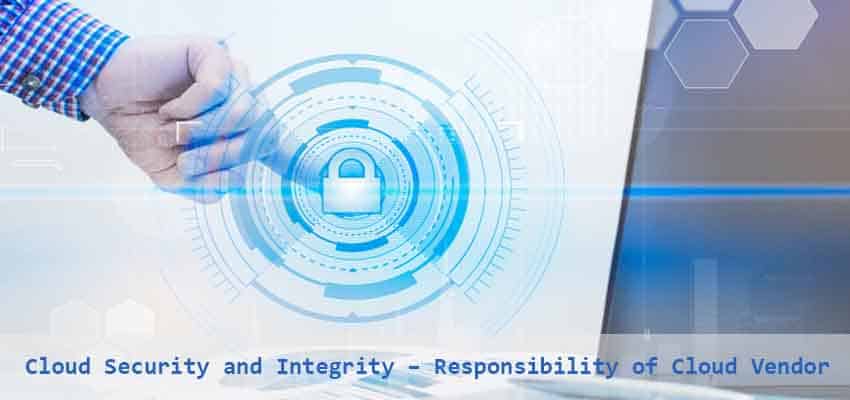 During the implementation of cloud within a business, one of the primary concern is data security. Organizations need to identify the security measures before final implementation. Businesses still a fear of data insecurity with the cloud system. Information technology experts wanted to enhance their security level with cloud implementation as they've for internal resources. It has been observed that businesses are considering cloud security and integrity as vendor's responsibility. But an enhanced security and solution integrity is actually an outcome of a collaborative effort of business owner and vendor.
How Cloud Security and Integrity Could Be Enhanced?
Cloud security and integrity is actually an outcome of the software vendor and business owner. It could be efficiently enhanced by understanding following steps.
Understanding Cloud Security Primary Object
While we talk about cloud security, integrity, responsibility, authentication and privacy, primary objective and main purpose should be understood. Understanding this objective is an important requirement for implementing any plan. ISACA has made a survey and drives results that there 4 control level of IT resource from a security perspective:
People
Information
Application
Infrastructure
These control levels are defined for all cloud and on-premise security measurement.If we specify the details regarding cloud implementation their architectures are developed by three different reference models:
Infrastructure-as-a-Service (IaaS)
Platform-as-a-Service (PaaS)
Software-as-a-Service (SaaS)
Along with IaaS model, cloud software vendor only offers physical or virtual infrastructure. At this level, users are the administrator of system infrastructure, network, data as well as application. While PaaS allows the cloud service provider to manage complete infrastructure. It also includes middleware components. Software-as-a-Service (SaaS) is a model where the cloud software service provider is actually responsible for everything whether it is the application of infrastructure management. In this system cloud customer or the business owner only add, update and access their data.
Data Security & Access Management
Data security & access management of all aforementioned cloud models (IaaS, PaaS & SaaS) is distributed to the user as well as service provider. According to key standards, the vendor is responsible to secure transition between IaaS to SaaS. On the other hand, users are considered as more responsible in IaaS. Some of the primary cloud security measures for the user are:
Software Access Management
Identity Management
Confidential User Management
As already discussed in IaaS model, the software vendor is just going to operate virtual & physical infrastructure. Therefore, software access & identity management is complete responsibility of the user. While in PaaS and SaaS it is mutual responsibility of both. System access management is user's accountability and the vendor is responsible for auditing and API security. Identity and restricted user management is mutual responsibility of both.The elementary cloud security and integrity measures for controlled statistics contain:
Data Classification & Collection
Data Encryption
Data Access Control
Data Monitoring
Secure Data Eradication
In case of IaaS, all of the data security measures are the accountability of users. Whereas other models authentic cloud service provider to secure their database with enhanced tracking and right tools. But the user is fully responsible for the data as well as the content itself.
Infrastructure & Cloud Application Security
Again is SaaS it is the joint responsibility of a user & vendor. A cloud consumer may control the content and data while service provider manages the application. Essential cloud application security measures should be applied that includes:
Secure Software Deployment
Cloud Security & Exposure Testing
Source Code Analysis Security
Threads Protection during Execution
In SaaS model, cloud service provider is responsible to design, develop and operate the application. They're also liable to deliver an application to the consumer. They are fully accountable to deliver fully featured and secured application along with code scanning and application security management. Cloud software vendors are responsible to provide a higher level of security for its services.In PaaS & IaaS models, cloud application is associated to its consumer. So, here the vendors are responsible to develop fully featured and customized application along with the implementation of appropriate security measures. It includes:
Network Security
Communication Encryption
Endpoint Security
Physical Security
Endpoint security is actually formed consumer end and requires to access cloud software. In SaaS model, this is the only accountability user related to its infrastructure.Although in IaaS cloud model user is responsible for network security and communication encryption. These responsibilities are transferred to the service provider in PaaS & SaaS. They need to implement security measures by using recommended tools. Assurance of physical security is undeniably the responsibility of cloud software provider.The cloud software service provider may enhance their support for the organization by sharing essential security guidelines and rules. They may define and communicate the standards for cloud security and integrity enhancement.
Final Thoughts
Cloud security and integrity is actually a mutual collaboration. It is quite crucial to identify and segregate security measures from among both stakeholders. It has been clarified that both vendors, as well as a user, are the responsible. They need to put efforts from their own ends and collaborate to enhance security.

Connect With Us
Search
Recent Posts