Customer's Data Collection with an Effective Cloud ERP Solutions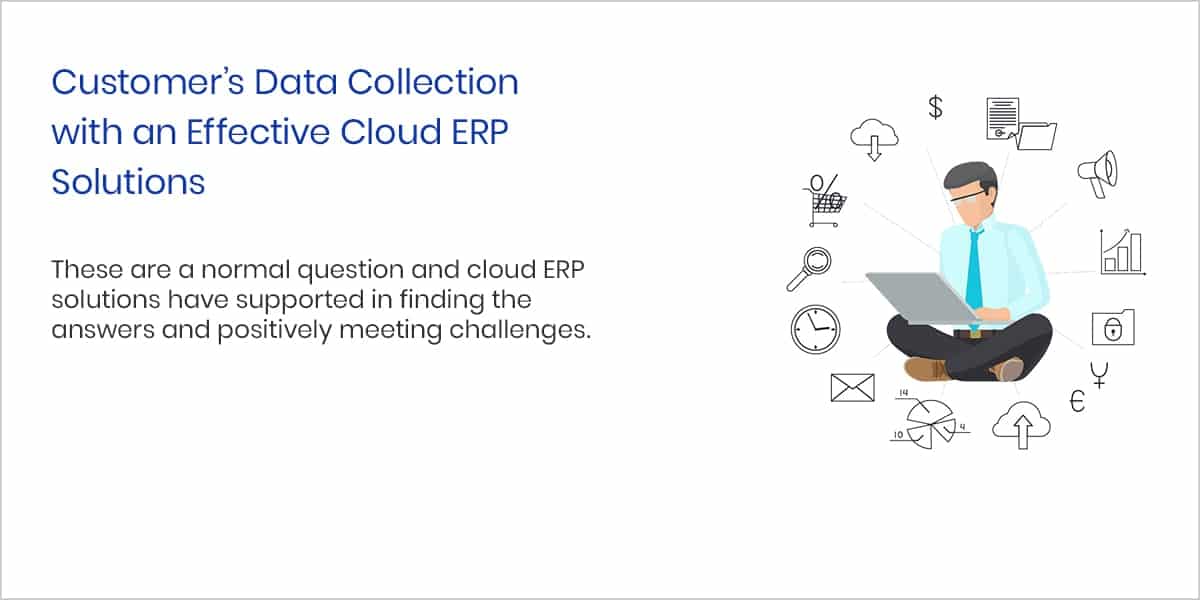 Once there was time every business owner knows the name and preferences of their customers. Nowadays, it is challenging because the market is expanding and clients are connected to an organization from all around the world. Therefore, knowing about every individual and their demand is tough. But at the same time, it couldn't be ignored because it is a core necessity to know about customers and track their buying behavior. Knowing your customer needs is a massive attainment. Customer information can help the organization to grow profits and get valuable feedback. It helps to build valuable relationships between customers and organization by sending them promotions, discount coupons, and loyalty cards. Best use of customer information creates the percipience of Customer care.Now the question is, what, when and how client data can be collected? Are we concerning too much, is the collected data is just raw material or information that can be effectively used in some time? These are a normal question and
cloud ERP solutions
have supported in finding the answers and positively meeting challenges.
What Does It Mean By Too Much Data?
Being a retailer, all data related to the customer is important and can be used sometimes for their retention. It is almost impossible to collect too much information because there is an endless list of required data i.e. name, gender, age contact number, address, and email address etc. More collection of data shares a comprehensive picture of buying behavior that could be positively used for product placement, pricing and inventory management.From the perspective of the customer, this is too much data and its collection is problematic.Not every customer is comfortable in sharing personal information. The customer might get offended by such questions or fall for insecurity. Retailers are always using different sort of comfort zone generating tactics for making the customers to share information. It consumes hours to ask the customer for such information. Such data is undoubtedly important for business but it is not easier for your sales and cashier staff to ask regarding the client's personal information. It is an awkward situation that your cashier is asking personal questions from customers for the sake of information collection.But again, whatever the situation is, but the retailer has to find different ways to collect such information from their clients, therefore, they embrace
cloud based ERP systems
for such purpose.
What Data Needed To Collect?
Customers are always seeking for benefits and that's the biggest advantage for the retailers. It is difficult to collect detailed information from any customer unless you're offering some incentives, discounts, and promotions to earn their loyalty. The customer can avail loyalty card by providing all important data to store through a form contain all relevant questions. This loyalty card afterward presented at POS and each transaction automatically share and store required information associated to every individual customer.In case, if a customer doesn't carry a loyalty card, acquiring the right information is difficult. Asking every question verbally from the customer is not assured of accuracy. Remember, every piece of information contain a separate value like Zipcode, contact number and email addresses are the same levels of value, nothing can be avoided. The goals behind the collection of all such information are to know more about the customer and find out multiple ways to connect back to your client.
What Would Be Right Time To Collect Data?
Most data is collected at the
point of sales system
. While you're completing customer's transaction, all required data should be collected on a priority basis. If the transaction is specified to sales and promotions, during product scanning POS devices automatically store data of scanned products to acknowledge customer's interest (so, in future contact back to those customers with new promotions).The cashier can enter customer's gender and age-related information to the system according to their observations and analysis. They can help in finding out the popularity of specific product among an age group. Let's suppose we can say product as is used by 20-30-year-old females and it is going to help us in knowing about the targeted audiences.
How Can Data Be Stored?
Cloud ERP
contain complete transaction history and customer detail in a separate column of single databases. We're not storing any information in separate files that seems difficult to maintain. If a retailer has stores at multiple locations, single cloud software could be used for multiple locations but store all information in same databases. One system solution encourages detailed analysis with an easy access to the right information. All data whether it is demographic, personal and other can be easily accessed from a single solution.Retailers must be sure about the collection and usage of data in the right way. They should also be able to set the priority level of the collected data. Implementation of ERP software enables easy data management and analysis. This is a right way to eliminate data redundancies and the chances of human errors.
To Be Conclude
Retail and other businesses can attain a lot of benefit from the collected data of customers. Collected information's can help to know the growing demand and needs of customers. The process of collection should be transparent enough for customers and business,   promotions should be offered to attain deep information i.e. contact numbers and postal codes etc. Retailers can rely on the
ERP systems
for data sorting and collection to make their sales more prevailing. Cloud ERP solutions should be capable to offer easy data entry for cashiers so, they can promptly manage all data. Furthermore, the software helps the management in understanding deep insights and identifying the buying behavior of customers. By using ERP systems retailer's life get very easy and collecting data stays no more a big problem.

Connect With Us
Search
Recent Posts