Top Search Engine Optimization Trend in 2017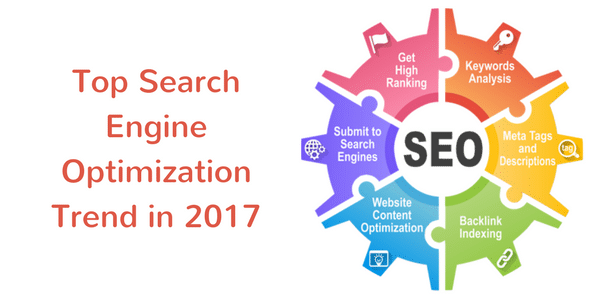 While we are talking about
Search Engine Optimization
trend in 2017, it is clear to state "Busy". Yes, this year was a very busy to update new tactics. In simple words, strategies for
search engine optimization & marketing
are rapidly evolving. If someone is seeking to stay in the competition, they should pay attention to these market trends. SEO industry is consistently moving towards new changes. The best approach to achieve your targeted goals is to stay updated with previous and upcoming changes and adjust yourself accordingly.Here, we have enlisted few trends that support in staying ahead in 2017.
Infographics
Infographic is a word with the combination of "information & Graphics". This is actually a visual representation of your content or the information you're providing to customers. It grabs more attention of readers and stays in their mind for a long time. We need to understand that today's reader or your potential customer is busy. They seek for instant and quality content to fulfill their appetite. Therefore, an infographic is an SEO trend to engage your reader. If the reader is somewhere losing their attention in your content, infographics keep them connected.This is search engine optimization trend because it simplifies the content for the reader and an approach to appeal them. Creative and content enriched infographics support in brand awareness as well as information sharing. It is observed that a visual content appeal more audience than a simple text article. It grows your traffic, reader's ratio and improves lead generation for a business.
Social Media Marketing
One of the important approach to attain customer's attention and engagement is social media marketing. Social media platform are playing a significant role in brand awareness, potential audience attraction and boosting traffic to your website. Today social media users are in billion so, you'll be able to have a broad audience for your business.
Long Form Content
Long-form content is another important search engine requirement. This is an SEO friendly content normally contain 1000 or more words. This type of content improve the keyword usage and provide more information to users. If you're not paying attention to long-form content, the search engine will also notice it. It doesn't mean to prefer quantity over quality. Because if you've written content for 2000 words but ignored the quality all your efforts will be in vain.
Quality Content
One of the most important search engine optimization trend in 2017, is to provide quality content. The user doesn't want to have old, boring content, therefore, the search engine is focusing to offer more quality content. Before writing content for your business, make sure to have:
Research In Depth
Embed Strong & Catchy Headings
Provide Call to Action for User Ease
Attractive Formatting
Visuals for Reader Ease & Understanding
This is a time to bring variations in your writings and provide informative & quality content to your user.
Accelerated Mobile Pages (AMPs) Raise
Google is taking take for AMPs. The purpose of Google strategies is to bring ease for the user. Therefore, it is paying attention to AMPs. This an
SEO tool
that allows improving page loading for mobile devices. This idea implementation support in improvement of page loading speed. If a website is taking care of page loading speed to a mobile phone with design accuracy. Google increase its visibility to search engine.
Mobile Applications
Today, most of the users want to have all information on their mobile devices. They like to use their desktop or PC again and again. Therefore, Google wants to bring an ease with the development of mobile application. It is becoming necessary to put an effort in making your mobile application attractive with eye-catching designs and creative logical approaches. If you're taking care of your mobile-friendly features and innovative designs Google will surely consider your efforts.
Artificial Intelligence
Today Artificial Intelligence (AI) is rapidly changing search engine optimization more than anyone can even think. Google's algorithm RankBrain is an important factor to consider in today's SEO. Sometimes the user instead of writing relevant keywords, state a complete statement to search bar. It makes things complex to return with accurate results.Therefore an artificial intelligence may support in concluding more accurate results. RankBrain is an algorithm of Google that supports in providing accurate answers. It also demonstrates the list of most relevant queries.
Final Thoughts
These are top search engine optimization trends in 2017. These trends were strongly followed by SEO professionals to improve their website rankings. In everyone is curious to know what search engine is seeking in coming years. Digital marketers are getting more competitive to accept changes and improve their strategies. If they're exploring upcoming and current SEO as well as marketing trends, search engine rankings are waiting ahead. As Google set new strategies, marketers develop new strategies accordingly.

Connect With Us
Search
Recent Posts