6 Worthy Features of HR Payroll System
Today i'll going to elaborate you about HR Payroll system's extensive features. Before start my actual topic i would like to make you know about definition of both HR Payroll System.
Definition of HR System
Human Recourse Department in an organization is basically deals with managing peoples within the organization.
Their core aim is to bring out the best suitable employees that will contribute in organization success.
Human Resource System all about managing self services that help HR persons to organize staff in organization/company.
Human Recourse Department has an importance of back bone within the structure of organization. Its basic purpose is organizing company employee hiring, staff's management, employee's related issues like recruiting, hiring, departments assignments, department's collaboration salaries generation, performance management, allowances and increments.

Definition Of Payroll System
Payroll system is slightly different from HR System. Payroll is a process by which the employee of organization receives their salaries.
For this system deals with the functions that involves balancing and integration of payroll data. It also includes depositing & reporting of payroll system information. Payroll system also takes care of wages generation, deductions and employee record keeping processes.
HR Payroll system alone & its ERP System software is an assist for HR professionals' to identify, evaluate & select employees.
This system is basically designed & developed in a way to help HR experts after a deep feedback about system's requirement document. Their requirements & instructions have made it extraordinary from rest of software's list. It is enlisted a huge number of Sub Modules, while I'll share here some them.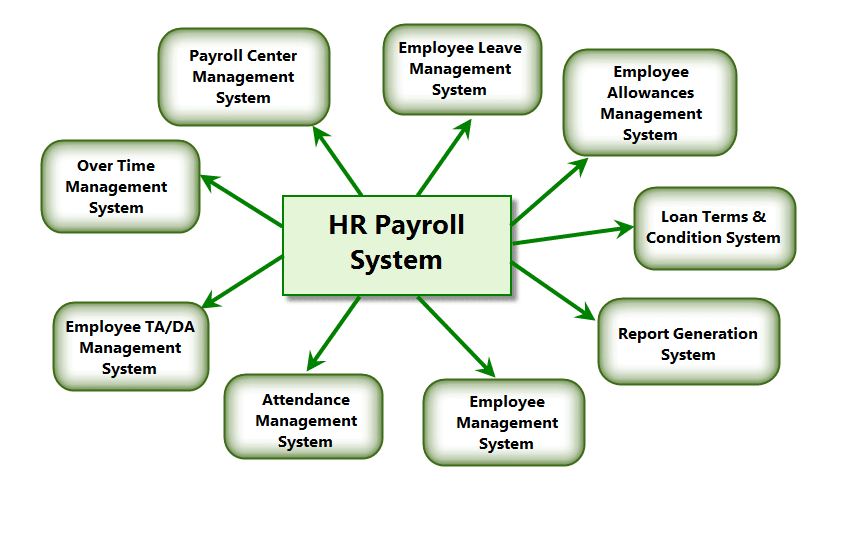 Sub-Modules of HR Payroll System
HR Payroll system is enlisted a huge number of Sub Modules, with accordance to organization's sizes.  you can customized your acquired sub modules. while I'll share here some them.
Employee Management System
Attendance Management System
Employee TA/DA Management System
Over Time Management System
Payroll Center Management System
Employees Leave System
Employee Allowances System
Report Generation System
Loan Term & Conditions
Employees Allocated Resource Management System
Features of HR Payroll System
There are a lots of key features of web based ERP HR and payroll system software. Now I'll going to describe each one by one.
1. Time Management
It minimized the time consuming administrative task.
2. Automation of Processes
It helps you to automate & consolidated key processes and data to improve productivity and that will automatically grater the efficiency.
3. Streamlined Workflow
HR & Payroll software system streamlines all global HR processes & their obtained data. That generates efficiency in workflow. It runs complex pay roll processes efficiently
4. Authorized End User Access
It provides roll base access to end users that it automatically enhance the security levels. Improve HR & Payroll services delivery and share services.
5. Minimized Risk Level
Ensure compliance and mitigate risks level in Workflow procedures
6. User Friendly
It reduces training time because of its user ease to use.
It provide user friendly environment.
Conclusion
ERP Based HR Payroll Software has opened new ways of progress for organizations all over the world. These innovations in technology industry are recommendable & we should appreciate it with whole heartedly.
HR Payroll permits you to efficiently and accurately pay everyone in your entire workforce—no matter their current locations.
Offer you more proficient ways to switch all of your employee-related activities. All well known organizations are adopting this advanced software & adding more profit.
The ERP services providers companies have also offered customized versions for small domain organization as well.