CLOUD ERP USABILITY AND SECURITY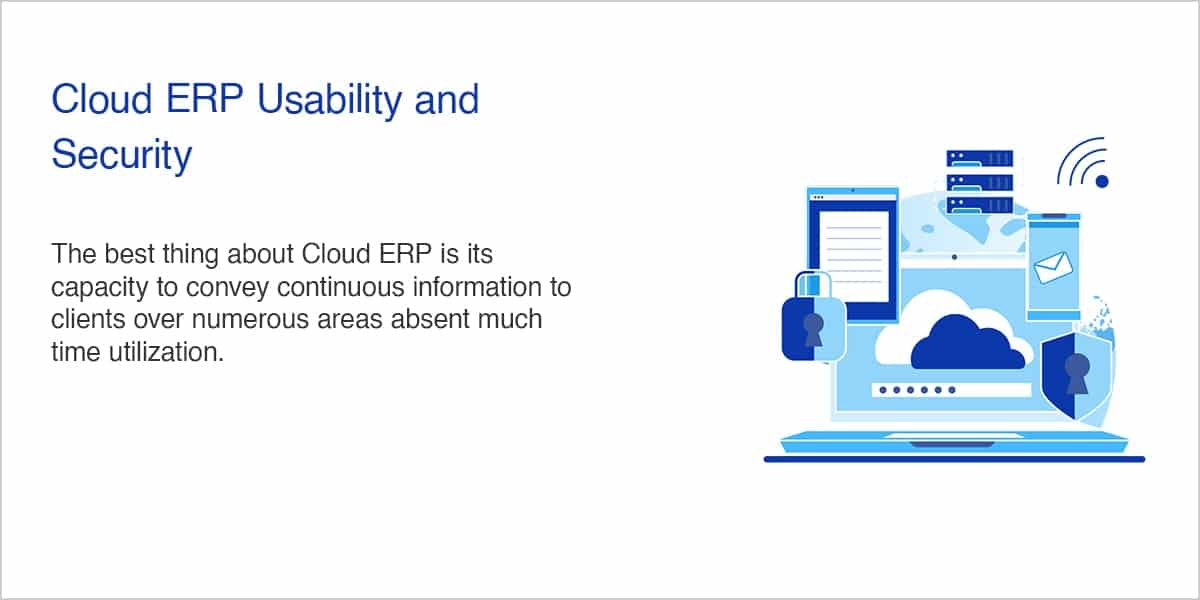 Growth is a dream of every organization. To grow organizations, need to keep up with the new technologies. Now a day's automatic systems are being more preferred than manual setups. Even
Now many companies are adopting advanced technologies at a faster rate than ever. Cloud ERP had also replaced the on-premise ERPs and have proved more versatile. The market for cloud ERP software is rapidly rising and promises flexibility, scalability, and agility. Cloud ERP implementation can save time, money, and stress compared to on-premise deployment as:
Doesn't require the purchase and installation of hardware, data servers, and software
Can't be significantly customized, and it's secure
Needs fewer internal IT, data security and implementation staff
Integrates more simply with existing ERP systems and other applications
Consumes less time and results in enhanced productivity
Let us have a look at the usability, and the security ERP solutions provide
Cloud ERP Usability
Most of the cloud-based solutions are designed with the user in mind, so they typically have friendly interfaces and are accessible from mobile devices. The best thing about Cloud ERP is its ability to deliver real-time data to users across multiple locations without much time consumption. Now people in different areas can even communicate and collaborate using real-time data.
Even the remote workers or employees who are in the field can stay connected to the most up-to-date insights. ERP systems have added ease in the life of employees and made everything easily accessible. These systems are even operatable on mobiles, and the user can stay in touch where ever he is. Companies using mobile cloud ERP software for working also report improvements in data accuracy and durability. Modern technology can minimize mistakes by reducing the need for redundant data entry.
Many on-premise solutions were designed years ago, but their interfaces were not as user-friendly as cloud solutions are. One benefit which cannot be denied of the on-premise system is that on-premise deployments can be accessed even without an internet connection.
Cloud ERP Security
 Security is the biggest concern for every organization nowadays and even in the past. Data breaching can cause lots of damages to the organization. Some companies fear about security with a public cloud, but most cloud ERP vendors rely on reputable data service providers.
Many companies purchase their data servers and are increasingly concerned about ransomware attacks, which use malicious software to block companies from accessing their data.
The attackers claim a ransom to restore access, and even if the company pays, the data may remain blocked. The best thing is Public clouds offer data backup, so ransomware attacks become less disastrous.
Cloud ERP is designed to ease the life of organizations and let them approach maximum productivity. A private and single-tenant cloud system offers even more privacy, control, and customization than a public cloud. As all power is in your hands and you can manage the data flow with your own choice.  Operating Private Cloud ERPs is much safer than others and enhances productivity in real-time.

Connect With Us
Search
Recent Posts