Is Cloud Based Account Management Software Safe for Small Business?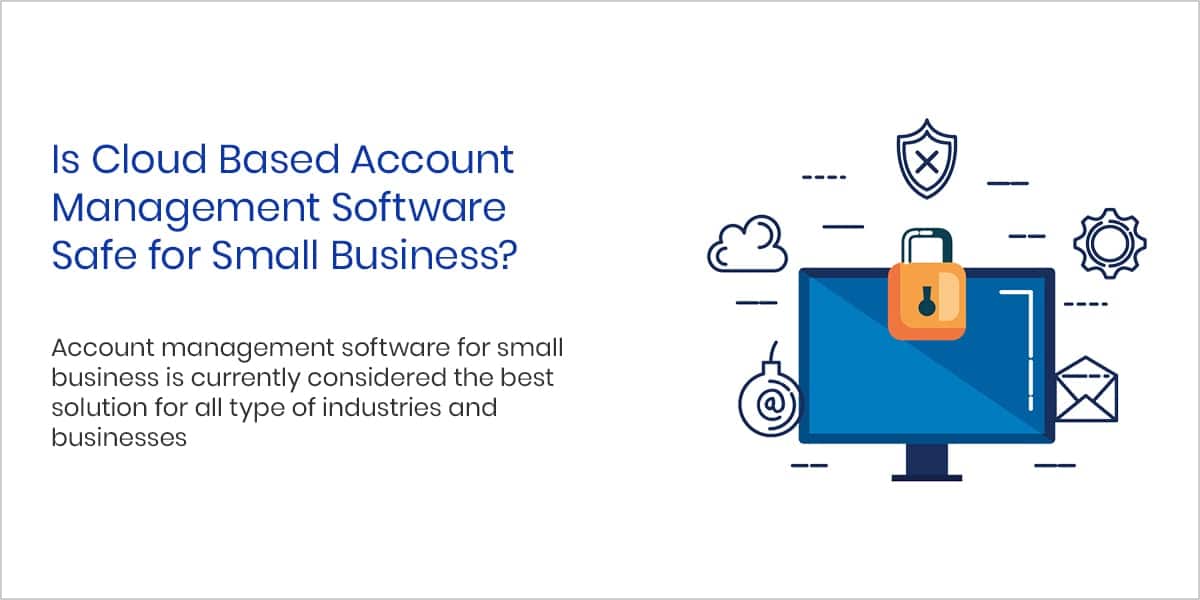 Business always cares about the security measure and the weakest links of the security premises. If data is placed in some machine within the office premises, it is necessary to lock the doors on left. While if data is placed on your own website, and you need care about that, don't ever give the administrative access of your employee. Now if you're concerned about the
account management software
and statistics, don't leave it in the office.Despite online hacking news, web or cloud based software is the still the most secure tool to manage and keep all important business data. You can make all important security precautions and minimize the risk factors for data leakage. Here are the few reasons that'll encourage you to move towards cloud based account management software.
How Can Cloud Account Improve Data Security?
The complete place at the workplace or even the personal computers are not as safe as they seem. Keeping all valuable information on the computer is not a great decision. Especially if you're not generating data backup to some external place.
What Problems Could Be Occurred In Local Storage?
If you're storing all your important accounts and other business data to the local device and not make any backup. At some point the computer encounter viruses and other challenges. The entire data will be affected by the viruses. If you're handing over the machine to some IT expert to clear the virus, still data is not secure. The risk of data access will be higher, they may copy any of the important data. The security threats are going to be increased.Let's suppose you're carrying the personal computer with you in some coffee shop they risk of theft will be higher. You'll lose all of the important information along with machine loss.If you're moving the data to
cloud based Account management software
, the issues will disappear. The cloud software vendor offers regular backup, therefore, the chances of data loss will be reduced. The data backup will be at multiple locations so, there is no need to worry about it. In the case of the system affected by viruses and place may face challenges including flood, terrorist attack, and fire etc. All of the accounts data is securely placed in a different geographical place. It has reduced the chances of disaster. It gives 24/7 access and security to all your data. The data centers ensure well-organized and managed data. There is no need to worry if you're leaving your laptop in the car or in office. Furthermore, it is also possible to work from any location i.e. home, coffee shop etc. It offers the most sophisticated digital security.
How Cloud Based Account Management Software Work for Small Business Work?
Cloud based software account management software
is the collection of different servers placed at remote locations. It gives remote access to all users and offers a complete alternative to local storage devices. It provides a huge number of benefits that support a company in successful execution.There is a number of differences among cloud solutions, some are designed as a complex solution and other are flexible with the huge amount of data.Today security is available in different options. Data could be encrypted to the server as well as during the transition. It entirely depends on the value and security that is provided by different service providers. Cloud account management software service provider offers security according to the worth of data tailor a complete approach for clients. Before moving with your choice, make it sure to check the security system whether it is aligned with your requirement or not. Beware with all challenges that could be faced according to industrial requirements. You should familiarize with business need and industrial requirements to make your selection perfect.
Accounting Software Transition Risk
Selection of accounting software for small & large business is your own selection. While making this selection, you need to balance the risk factor. Sometimes your selected software may cause failure in integration. Putting all of your data from a local system to cloud is a global risk that could also not ignored. Different business has their own concerns and needs for cloud accounting software implementation. Some important risk factor is discussed below:
Data Access:
It is necessary to access all of the important data with reasonable speed else you'll get a horrific experience. Like all other businesses, if you're also concerned about the productivity of your organization, make it sure to check data access speed before making a purchase. If the system is taking much time to load and store your information, it could scare the businessman or especially an accountant.
System Hacking
System hacking is another important security problem that needs to consider before cloud implementation. Hacking is the strongest warning that may harm data for small and large businesses. You need to check the security measures to prevent hacking.
Giving up Control
If your data is properly stored and encrypted, the loss may occur if you're handing over to someone else. An authorization access to some unwanted or irrelevant person could be a significant reason for data control.Some risky aspects of cloud based
account management software for small business
are conquerable. You may find a lot of options with complete control over the data and information i.e. encryption. While selecting the vendor, make sure that they should care about your demand and give respect to your data. Testing before implementation is another important safety precaution. If you're ignoring these points it may cause data breaches.

Connect With Us
Search
Recent Posts