Collect Customer's Feedback in Account Management Software for Small Business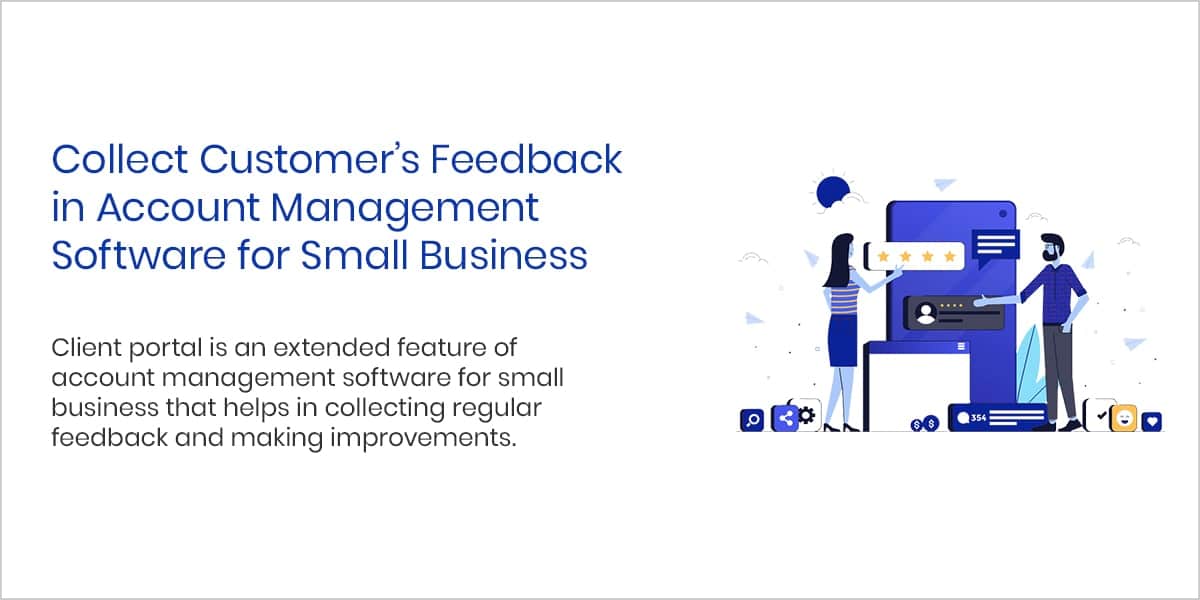 Your customer has a lot to share and discuss your product & services. Their reviews are important for a business to retain them for the longer time period. One of the traditional ways to know about their experience is to conduct the meeting and collect required data by spending hours with them. It is quite crucial to give a specific time to every customer individually. Another approach is to ask for the customer's feedback. This feedback is going to help in making improvements to your product and services and a strong reason to raise revenue.
Accounts management software for small business
is nowadays, offering an online portal for the client's feedback. You can now share invoices online through the portal and immediately hear back from customers.Client communication module has eliminated the boundaries and business owner can directly hear feedback and complaints from clients. It helps in finding out the points to make an improvement. You can collect reviews within your business software. Customer feedback request can also be generated through this portal. Let's have a look at few benefits of accounts management software.
Better Products/Services
Clients are always the best critics of any product and services. They can help a business to in knowing technical glitches and also suggest market competitive features. They can also point out the pricing strategy. Therefore, it is important to listen to them carefully because it is going to support you in crafting strategies and bring improvements accordingly. While clearing pending invoice, they can easily put their feedback to account management software for small business.
Evaluate Customer Satisfaction
Customer satisfaction is always the top priority for any small and large company. There is no doubt that none of the businessmen want being told that their services or products are lacking or aren't meeting expectations. But at the same time, no one can ignore customer's reviews. Because these reviews let you evaluate whether the services are meeting goals or not. Customer satisfaction evaluation is important for a business to continue growing.
Issues Resolution
Customer's feedback helps in undressing the major and minor issues of services. Once issues are undressed, you'll be able to stay focus on the best solution. If you're not collecting feedback through client module of account management software for small business, issues identification could be more difficult. If you're not pointing out these points and there will be no improvements and customer may express their anger in public. A dissatisfying customer can harm your market reputation.
Attract New Customers
Satisfied customers are the best approach to market your business and attract potential clients. Today we're living in the era of digital technology, any of the negative reviews can immediately hit your market reputation. Therefore, you should be careful with the success and growth of your business. Let's suppose you're not giving a chance of review to customers and they share any negative feedback publicly. In the same way, you're asking for regular feedback engaging your client through best account management software. Their positive feedback is going to generate more traffic for your business.
Social Presence
As said earlier we're currently living in the era of digital technology. Positive review provided by the existing customers is an excellent way to boost your social appearance. Today's clients have developed a habit to review online presence and existing customer's feedback before making a purchase. An updated feature of
account management software for small business
makes it easier to collects, capture and share feedback to different social platforms associated to company's profile.
Boost Team's Morale
The customer is sharing feedback that you and your team is offering excellent services. Their praise positively impacts the behavior and confidence of your team. You'll be sure that company is successfully accomplishing its goals while the team gets confidence that they're playing their role positively in business success. It gives peace of mind to all including business owner, customer, and team.Customer's review is not the only feature of account management software for small business. It owns a lot of features that allow to share instant invoices, clear payments and discuss improvements. Furthermore, a business owner can collect and keep customer's information secure. It offers a secure and efficient mode of communication for all.Before the implementation of the right accounts software with extended features, make sure the fundamental requirements and budget of your organization. Right choice always helps in making improvements to your business. If you're still having any question, contact us and allow to provide support.

Connect With Us
Search
Recent Posts