Everything is on Cloud Technology, What About Physical Data Backups?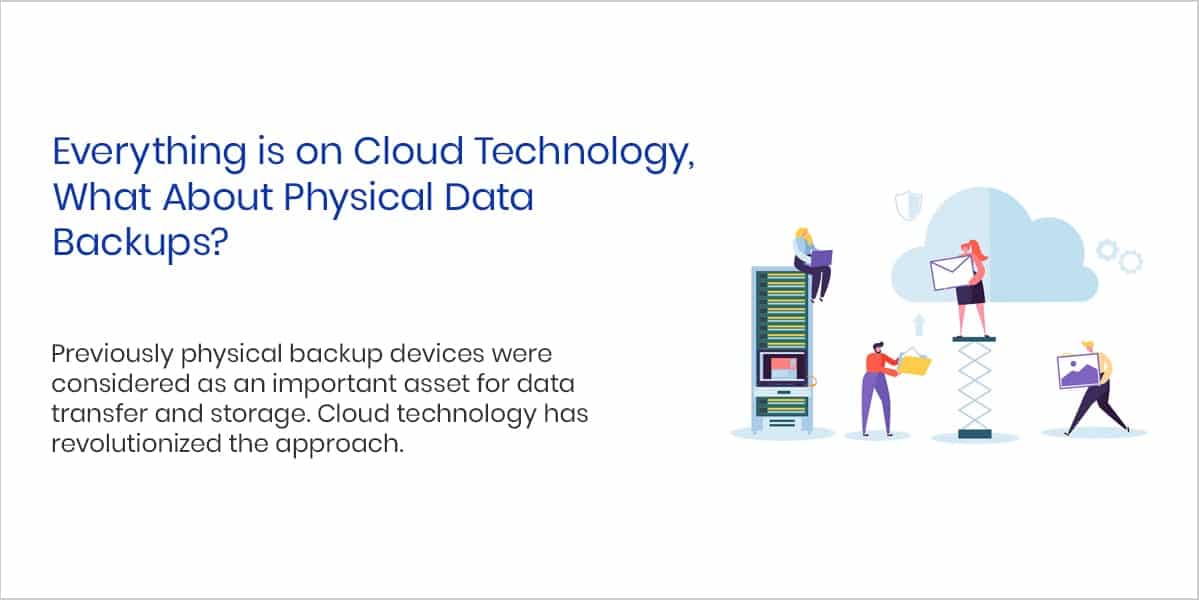 Today in 2018, most of the companies are seeking around to have cloud technology for their data backup, recovery, and management. Previously organizations were using combined software solutions for their data management that support in disasters and improve data management. This software was unable to provide task efficiency and has increased the workload to administration. Therefore, the organizations start using
cloud technology
and utilization of cloud infrastructure increased data efficiency, security, and reliability. Now from the early 2000s, organizations have adopted cloud instead of having physical backups to different storage devices. The technology was used to transfer & store data in a digital form
Why Should Cloud Technology Be Adopted?
Apart from unlimited storage, the cloud is offering a lot of unbelievable advantages to its users. These advantages encourage the organizations to adopt the technology. Some of the major reasons behind this acceptance are enlisted below:
Accessibility
If you've moved on towards cloud services, all of your data is now available online. You can easily access all of your data from anywhere on your devices with just the availability of internet connection. There is no more need to carry heavy files or storage devices along with you while traveling from one place to another. Besides all other advantages, this is the most reliable feature of the cloud.
Simple Integration
PaaS services allow all of your applications to easily communicate. There is no limitation of connections. There is no more need to customize your software with every new requirement.
Cloud technology
has enabled an easy and automatic integration that support to sync all required programs. Organizations have accepted it as the most simplified solution for their most of business problems.
Speedy Development
Cloud computing is the best choice for growing business. It can be easily upgraded according to business needs. According to your business need, you can simply ask the cloud service provider to update the solution. The provider will share subscription details and update package. All done. Your required solution is ready to use with payment confirmation.
Versatility
Cloud computing is offering wide-range of solutions for all of its businesses. Along with the integration of right solution, you'll be able to perform all important tasks. Whether you're working as growing or developed corporation it is offering different solutions according to your demand. It has increased the collaboration of different small and large entities.
Cloud Technology Disadvantages
Although there are a lot of advantages that are being offered by cloud computing, like all other solutions it also has different demerits. The demerits of cloud technology are given below:
No Data Security
We can see a lot of advancements in cybersecurity. Through internet hacking procedure, a lot of valuable information can be accessed. Hackers are always trying to find security flaws to access data. As like buglers they are ready to access all of your private information. The data security of cloud couldn't guarantee.
Dependency
If an organization has stored all of its data to cloud computing. It can only be accessed with the availability of internet. You can't access data offline that means all of the operations stop if the internet is not available. Furthermore, none of the service providers can guarantee constant connectivity. Any interruption in internet connection may also break your business operations.
Restricted Control
In cloud technology, you can't perform any task if your service provider hasn't managed and operated any of the systems. If you wanted to update system by changing some requirements, it is essential to call the cloud service provider for detailed assistance. None of your in-house information technology experts can upgrade the system by themselves. It might consume time from getting a response to cloud service provider. If you're unable to connect to your service provider everything in the system will be paralyzed.
Physical Storage Advantages
If you wanted to avoid the risks of data loss, it is essential to physically store data to some local storage device. Physical storage has following advantages.
Data Safety
The storage devices that use to store data could be kept within company's premises. So, we can assure that data is secure. In this way, the threat of cybersecurity has been removed because once you're off-line all of the system data is inaccessible to all.
Operational Continuity
While using physical storage there is no need to depend on the internet. You can simply update all of your data whether you're offline. There will be no continuity issue while performing any task.
Speed
As already said that all of the data is available off-line and can be easily update accordingly. Therefore, the speed issue is resolved. You're no more dependent to internet or bandwidth for speed limitations.
Physical Storage Disadvantages
Costly Solution
It is quite expensive to store your data physically. It can be a costly solution. You need to purchase new hardware and operating systems. A personal server system is also required. Maintenance of system need to hire additional staff, furthermore, the electricity bill will also be higher.
Inflexible Solution
In case of physical storage, you'll be limited till the final purchase. Let's suppose, you've already purchased a hard drive of 500GB. Now space is limited if you wanted to store more data, the new device required to purchase. In order to handle the capacity, you've to manage things on your behalf.

Connect With Us
Search
Recent Posts