Features to Look for While Bringing in an ERP for Retail Business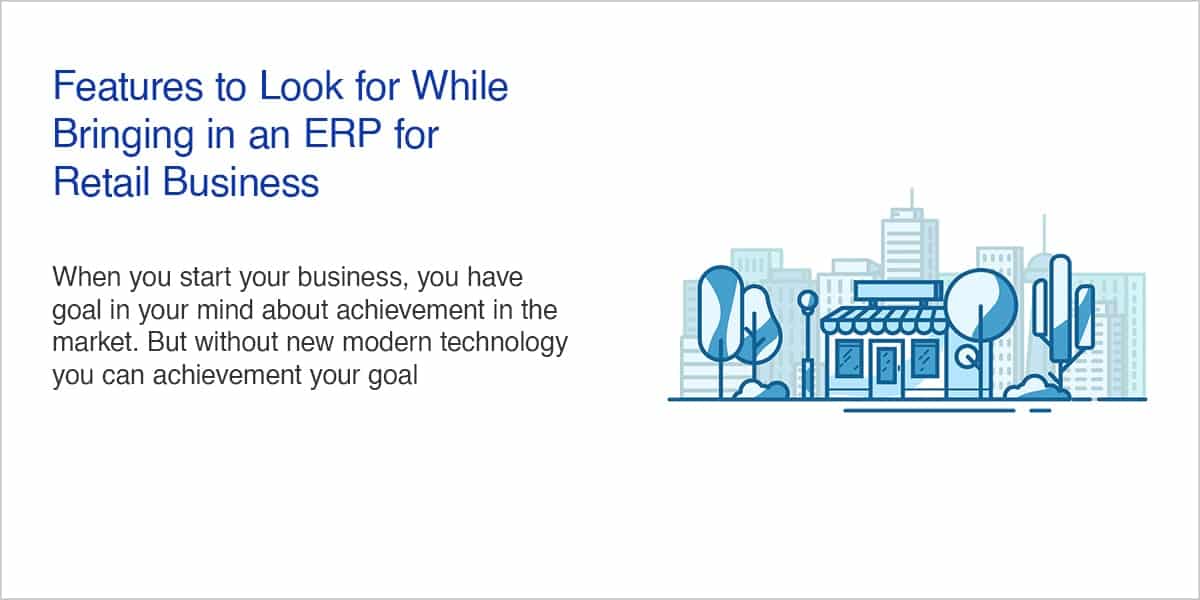 There are certain factors one should look for when considering to implement retail ERP systems. Keeping in consideration, following are the features one should must have on their ERP for retail business requirements list.
Retail Workflow Automation:
One of the most important things in the retail industry's customer is to have an excellent shopping experience, whether they are entering a traditional store or shopping online. With the retail ERP systems retailers can unify all modes of sales such as traditional store, online store, wholesale, phone and mobile sales into one single system. ERP for retail business can send orders to the warehouse automatically, update their status, highlight exceptional orders and can reduce fulfilment cost per order with workflow automation. The real time reporting system integrated with accounting module enables the person to make informed decision more efficiently.
Multi Location and Real Time Inventory Management:
With the inventory management in the retail ERP systems, one can maintain an accurate inventory because of the automatic updates across all your sales channels. In addition to all one can have a real time and accurate view in their stock which can quickly identify the most selling products and supports in phasing out those products that are low-selling. All of these practices result in more satisfied customers who no longer have to leave disappointed that an item of their choice is out of stock.
Integrated Retail CRM:
In the retail business, customer can either make or break your business success. Retail ERP offers a dedicated system to manage your customers that assists in supporting today's modern customer relationships. It also helps in overcoming the customer-oriented challenges which organization have to face. Orders, purchases, emails and call logs are entered which provides a complete history of the customer which ultimately helps in upselling the customer with having the knowledge of his buying taste. It helps in gaining more clarity about those who really are your customer and how they van be served better is a huge advantage in retail ERP system.
Centralized Database:
All the details regarding customer and supplier is integrated with your business. So, whether its' about inventory management, accounts, sales, purchase, inventory and every other thing is updated in real time which helps in effective reporting and increased productivity. Returns are the most inevitable phenomenon in most of the retail business. Different on-going tasks in the organization gets effected if not managed properly. The ERP system should be flexible enough to process returns effectively along with managing inventory levels and cashflow. As all the system gets centrally connected chance of errors gets minimal.
Integrated Warehouse Management:
Warehouse management and order fulfilment plays a vital role in reduced processing cost and errors. One need to move products in and out of the warehouse quick enough to get them in rotation. The integrated warehouse management system should be able to support bar-code scanning, inventory counts, returned inventory while been fully integrated with your entire business.

Connect With Us
Search
Recent Posts