Simplify Pharmacy Operations Management with Best Inventory Software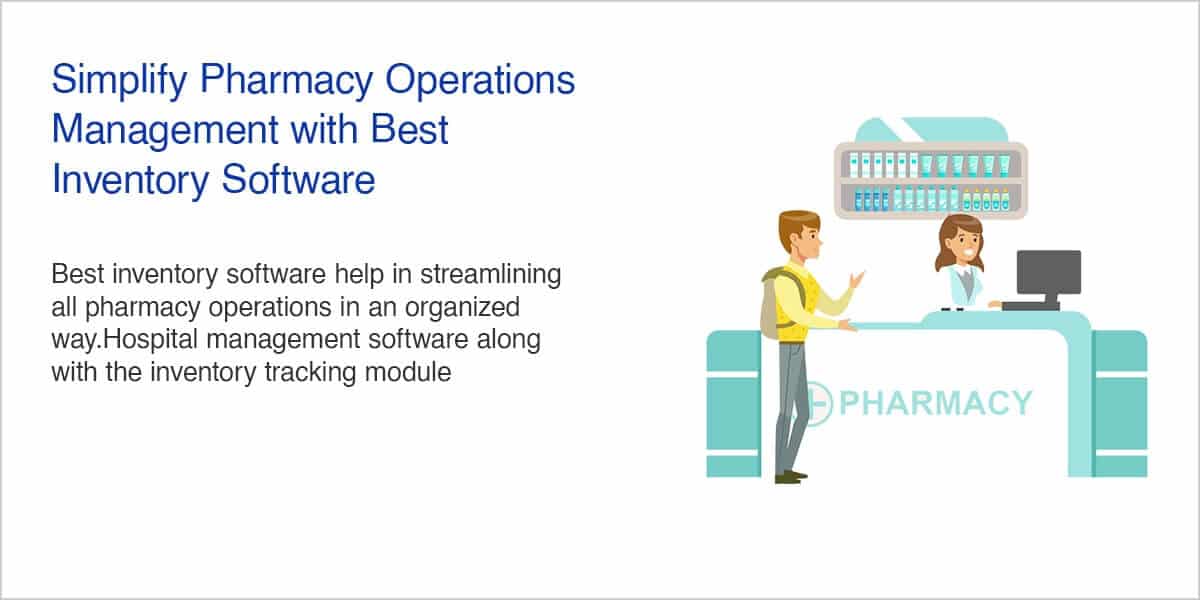 There is almost 80% pharmacist concerned with time and operational management. Previously the start using a typewriter for label creation by checking and reviewing reference books. Any adverse reaction or dosage problem can create a critical situation, therefore, they have to be more careful. Furthermore, in the manual process, it takes time to find out whether the required quantity and product is available or not. The time of manual management has passed away, now we are living in the era of technology. Today, information technology has significantly impacted our routine time also have standardized the processes. In the market, we can find the
best inventory software
to track, control and maintain records. It has enabled automation in repetitive operations of pharmacy like drugs search, testing, and monitoring etc.Today pharmacy management is efficiently controlled at different locations through a reliable software solution. It helps in managing the workflow and alarming dosage errors as well as drugs unavailability. Interaction with the right solution empowers the pharmacists to structure patient's record, enable e-prescription and streamline administration. Along with other functionalities and supply, chain management also becomes easier and efficient through the secure way.
Four Significant Features of Best Inventory Software to Improve Pharmacy
Auto Calculation
In pharmacy, we find a strong need for calculation, not only money but also the quantity. So, robots can be integrated with a software solution to accelerate the calculation process. It supports in the easy distribution of medication according to prescribed quantity.
Cloud inventory software
and are also known as an ideal solution for pharmacies to improve their workflow efficiency.While you're taking support form devices in calculations, you just have to pour all information into a single tray. It will efficiently examine them all and verify and count whether correct medication is available. This process will be completed with the support of the pharmacy management module integrated into hospital management software and in case of any failure information will automatically appear to display screen and alarm regarding the issue.
Online Refills
Online refilling is not new in the world of the pharma industry. Pharmacies on large scale are using it from years and getting advantage from it. It offers convenience for the patients to refill their drugs on request.Pharmacy receives request form customer through online refilling request or IVR and it directly goes the queue. That simply means no longer need to consume the time of phone for refill requests. As said earlier, you already have complete prescription record history for patients, you'll find it easier and proceed the request of refilling. Your staff does not need to spend precious hours of their time collecting requests. They'll be more focused on other productive tasks and decreases errors.
Third Party Integrations
You might use some third-party interfaces to streamline the entire workflow in an effective manner. Purchase and integrate every module separately could be a headache for business because you have to build connectivity among them.
Best inventory software
is the one offered by vendors, fully integrated with different modules are available in the market. It is useful for pharmacists, switching companies and wholesalers. Such software is integrated for today's pharmacies. It is a comprehensive solution for pharmacies and wholesalers to set up for automatic updates according to the sales, purchase and market demand.
Internet Access
There are a lot of technologies are available in the market to management hospital and pharmacies from anywhere through the internet. These devices are connected together to share and store real-time information and make the process or review and analysis easier. Remote management help in maximizing efficiency and utilization.
Best inventory software
share all information regarding drugs availability online. So the patients can also check details online. It supports in generating goodwill and public attention that is needed to improve your business. You're investing in updated technologies and sharing it with your customers. They'll appreciate your effort for their ease.
To Conclude
Today's technology has a lot of brilliant solutions for the medicine industry and leaves and a positive impact on them. Therefore, technology demand is rapidly increasing by customers. These are simple tactics to improve workflow and operational efficiency. SolutionDots Systems is offering the
best inventory software
with hospital management solution and pharmaceutical module. Our solution will definitely improve your bottom line and make everything remembering for your business.

Connect With Us
Search
Recent Posts