How to Use Cloud ERP Solutions for Getting Out of Your Investment?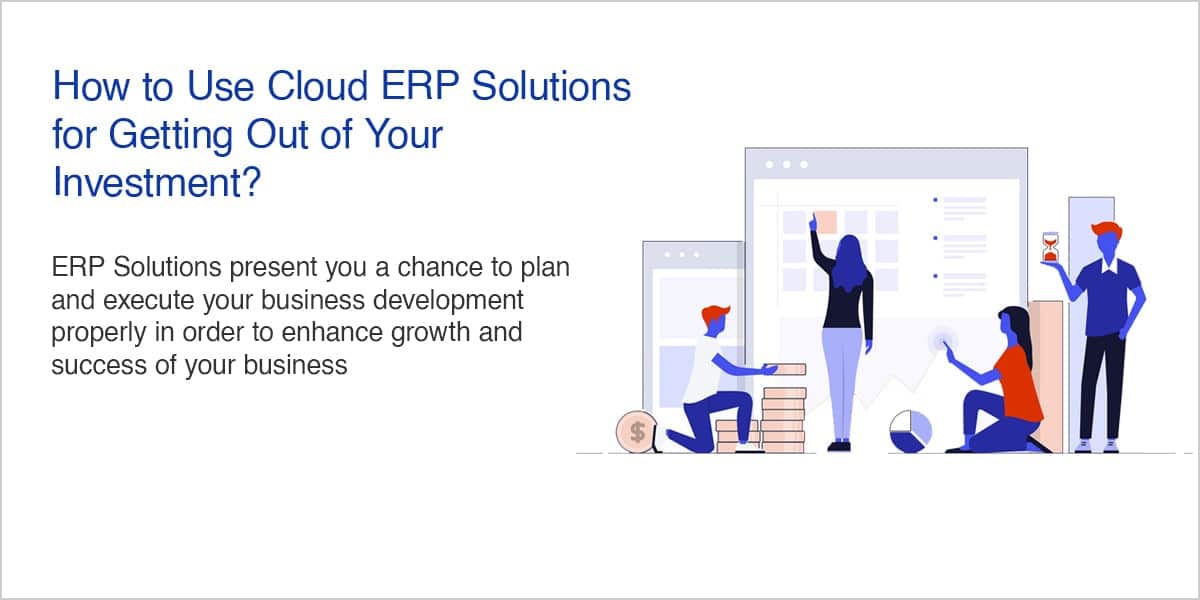 Cloud ERP solutions are utilized to manage all core business processes with the support of the latest technology. It is nowadays an essential aspect of all type of industries. ERP software is considered as a lifeblood for all organizations because it offered deep insights and improved visibility of all organizational functions.
Software has successfully empowered the employees, manager, and employer to make strong decisions.
Today most of the organizations can't perform their tasks efficiently without having the software. All functionalities of ERP software helps in managing different business operations.
Nearly all operations of the organization can be handled easily with a variety of integrated modules. Every individual module is responsible to take care of different specific areas and departments of business i.e. finance, human resource, recruitment, and administration etc. Nowadays cloud ERP software help organizations to automate all priority and repetitive tasks and offer to streamline reporting.
There are few organizations that fall into a category if SMBs and startups are afraid of making an investment in dedicated ERP software. They're afraid whether the system is cost effective and beneficial to meet all expectations or not.
There is a misconception that a company has to bear additional charges initially for successful implementation.
If an ERP software is implemented in a right way, you'll be able to understand that all misconceptions are wrong. It can excellently restore your investment and you can boost up the ROI. We are here to share how to you can get maximum ROI from efficiently implemented cloud ERP solutions.

How Cloud ERP Solutions Help in Getting Good ROI?
Successful ROI goal accomplishment is not just a dream but can be done with the support of ERP solutions.
Cloud Adoption
ERP itself is a blessing for all organizations. But cloud based ERP solutions could be considered as an outcome of all your prayers and answer to all questions. It is not easily available in the market but needs potential effort to access reliable solution.
The most significant advantage of cloud ERP software solutions is a less up-front investment. Up-front investment is a major concern for all startups and SMBs. They can't afford heavy investment at the initial stage of on-premise adoption.
Cloud based ERP software is highly flexible, reliable and customizable solution for all businesses. It has successfully taken over the business by streamlining all operations. It is suggested to you that this is a right time to make an investment in cloud ERP technology. This is a perfect move for your business to save cost and manage transitions.
Increased Productivity
This is an obvious thing expected from ERP solutions. A reliable ERP software solution will definitely increase the organization's productivity. As said earlier, you're relying on ERP software means all of the essential management departments can easily collaborate with each other. Such collaboration is beneficial for effective decision making and automating routine tasks that let the employees save their valuable time.
Less time consumption is the greatest requirement for business to boost productivity.
Cloud ERP solutions in saudi arabia is most importantly improve team internal collaboration. Every department will have a clear idea regarding the major activities performed by the team. Inter-department activities will be more visible to make it easier to coordinate and complete tasks by reaching an optimal level of success. Your organizations will be able to get more with low effort.
Operational Cost Reduction
Successful implementation of ERP software not only boost productivity but also offer ample opportunities to lower down business operational costs. There is no more need to perform additional time consuming and repetitive tasks i.e. data entry etc. Now everything available in the required format. Most of the tasks of your employees are automatic now, therefore they'll be able to contribute more to other profitable activities for the business.
Real-Time Updates
Accounts department is the backbone of an organization. All financial data management is the key factor to determine the sort of facilities ERP software is offering to an organization. Software automatically consolidates all data in the single database and allow the management to keep a regular check on its KPIs.
Easy access to real-time data encourages the managers to take productive decisions with respect to data accuracy. With few clicks, they'll be able to analyze the complete situation with any support of the specific department. The user-friendly dashboard of cloud ERP software shares all statistics in a single view. It improves decision making and enables departments to achieve more in less time.
To Conclude
Integration of different modules in Cloud ERP solutions can connect departments and businesses with a single interface. It has significantly enabled the organizations to complete its operations more efficiently.
Inter-departmental collaboration let the management to access accurate information and resolve all major problems. Effective decision making and enhanced collaboration automatically improve decision making and productivity.

Connect With Us
Search
Recent Posts