How is NextTotal POS system beneficent for your business?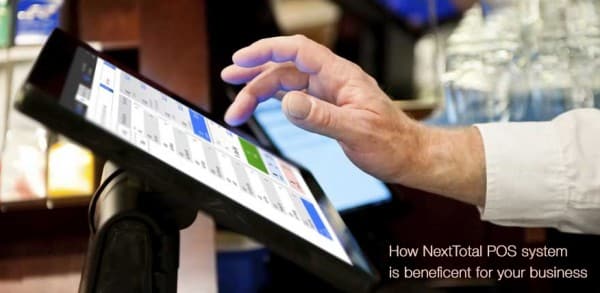 NextTotal POS system is an excellent point of sales software developed by SolutionDots Systems. It is comprehensively developed for all type of business to increase operational efficiency with the time-saving approach. NextTotal POS is an opportunity for the enhancement of customer's experience and simplification of retailer's own tasks. In Saudi Arabia, NextTotal POS system could be an excellent choice for your business without any discrimination of type and size. NextTotal POS system is beneficent for your business in various ways, some of them are enlisted below.

Benefits of NextTotal POS system
Save time and easily installed:
NextTotal POS system saves your time that usually wastes in a typical point of sales systems because it requires almost 0% installation at client's end. It is a web-based system that automatically updates and back-up, therefore, it saves the client from the trouble installation and system updates.
Cost Saving system:
On typical POS systems, you'll have purchase peripheral devices for installation, back-up, and servers but NextTotal POS system is a web-based system that keeps you away from such trouble. You are allowed to access it easily just with the availability of the internet any of your preferred device. It saves your cost of purchasing different hardware devices.
Enhanced inventory management system
NextTotal POS system helps you in the real time tracking of your inventory through different locations. You're always updated with your inventory demand and requirement with complete management. If a customer is demanding some item NextTotal POS system allows you to reply immediately with yes or no.
Fast & comprehensive reporting:
NextTotal POS system provides fast, accurate and comprehensive reporting and keeps the business growth transparent. You'll be able to improve decision-making skills according to the required results. It allows you to take immediate and accurate decisions on the basis of facts or reports generated by the system.
Minimized paperwork:
NextTotal POS system is an updated system that keeps track of all business sales whether it relates to some specific or all branches of your business. Invoice generation, order placement, and accounting problems are electronically solved therefore it has minimized the paperwork and enhanced the smoothness of operations.
Enhanced client management:
NextTotal POS system managed all of your clients at one channel, now if a client has visited any of your outlet all of the stores could view their details. It improves your customer services by building a positive bonding among you and your client.
Increased Sales:
Sales of a business depend upon satisfied and happy clients, NextTotal POS system is helping your business to increase the customer's satisfaction level. It also keeps a record of your sales so, you'll be able to know and improve your sales strategies and decisions. Continues improvement in your strategies will definitely leave a positive effect on your business.
To Conclude:
NextTotal POS system is a comprehensive solution related to your sales problem that manages your business in a way you desired to manage. If manages your customer relationship, accounts department, inventory, payment transactions, promotions, discounts, staff and much more. It allows you to keep complete concentration in the development of business strategies and keep focus to your business goal.

Connect With Us
Search
Recent Posts