How to Evaluate Best Point of Sale Software for Small Business & its Benefits?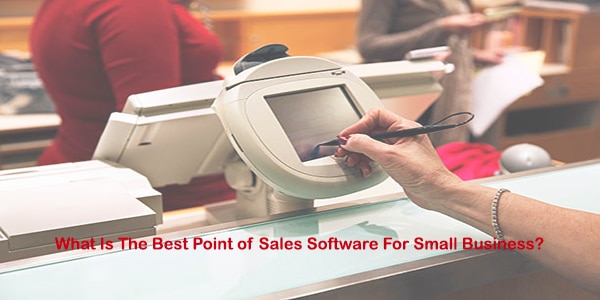 In this article i'll going to comprehend about point of sale software for small business. How to evaluate best point of sale software for small business and what are the benefits of using point of sale software for small business. Let's have a look!

What is it Point of Sale?
POS or simply PoS is short abbreviation, use for point of sale (location) or point of service mainly. This term point of sale software is applicable to all types of businesses regardless of their sizes and types.
It covered each and every one's life because directly or indirectly, somehow we all are connected with buying goods for life. The term point of sale system (POS) is used for the combination of hardware and software that manages the businesses.
There are so many benefits of using a POS system from the time when computer is able to capture, store, analyze, share, manage sales & purchase data and perform different operations.
Point of sale software for small business saves time, eliminate data duplication, increase efficiency and provide accuracy in inventory, ordering, reporting with excellent customer services.
What is Background of Point of Sale Software for Small Business?
In 21st century web based and mobile POS changed the traditional ways of 20th century point of sale system totally and revolutionized the life of peoples and industries.
The first POS system was installed in 1970's on a stationary computer and peripheral a barcode scanner with receipt printers. Then internet facility enhanced traditional POS system to be used with multiple stations and stores across various locations.
A computer is the main component of POS system and peripherals term refer to hardware device attach to computer. Some peripherals simply help you to use a computer with ease like mouse or keyboard.
While some peripherals are more specific to point of sale system like bar code reader, receipt printer, credit card reader, touch screens, etc. POS software's can be deployed in any operating systems such as Windows, Mac and Linux, which helps people to interact with computers.
Point of sale software for small business is used for Retail, Hospitality, Apparel/Fashion, Automotive, Cloud based Point of sale, E Commerce, Farms and Feeds, Gift shop, Mobile ordering, Payment processing, Pharmacy, Rental Software, Saloon, Shoe Store, Sporting goods, Veterinary and many more.
Read more about 5 Core Advantages of Retail ERP System's Solution at SolutionDots blog.
How to Evaluate Point of Sale Software for Small Business?
There are many ways to evaluate point of sale software for small business depend on different factors described below are
Deployment of the POS system.
Software interface and ease of use for workers.
Peripheral such as bar code scanner, printers, Credit card reading machine, touch screen, desktop, iPad/tablet, smart phone, internet and others etc.
Sale information and allowed operations right by POS software. The system at the time either allow users to add entry sales manually or not.
Depend how point of sale software for small business system allows you to control pricing and keep track of items for review.
How quickly POS system update information after sales are entered. The system needed to update all data records automatically on a single click of the user.
Built in solution for customer relationship and better CRM (customer relationship management) service.
Security is the most important standard because to prevent theft tight control over cash receipts in retail is important.
Industry specific tools, such as online ordering and E-commerce integration.
Customization option and third party integration.
POS system backend features and service limitations.
Overall reporting and analysis of data i.e. daily basis, weekly, monthly and yearly records for decision making.
What are the Benefits of Using a Point of Sale Software for Small Business?
There are so many benefits of using point of sale software for small business. Companies are using EPOS (Electronic Point of Sale) to make their businesses. Here below see the benefits of using point of sale software for small business and large sized business are
Deployment of POS systems is needed to be simple and quick.
For Web based or EPOS almost zero installation is necessary because EPOS is hosted and software is at the provider's end.
Rather than seeing numbers that are updated hourly or daily, you can track your inventory in real time with a web based POS system.
Software eliminate human error and save business money in the long term.
The facility of bar code scanner and touch screen capabilities enable transactions execution quick and seamlessly.
Keep an accurate record of daily transactions and report volumes of stock.
System helps you to categories your stock items into multiple sub fields and manage your inventory as per your company requirement.
Point of sale software monitor your purchase orders and alert you when stock is running low.
Read more about How Cloud School Management Software single product can manage everything at SolutionDots blog.
The POS administration module allows you to add promotion, discounts.
Allow user to define and edit bundles, item pricing, modification, cost price of items, selling price for each customer category, monitoring of items in both warehouse and outlets.
User can follow up the send data and received at outlet or headquarters.
POS outlet module control handles all sales and return operations, product bundling, promotion discounts, working hour shifts and right to modify, cancel or inquire sale transactions, etc. And accept different payment methods i.e. cash payment, credit card payment and on credit payments.
Stock controller handle purchase order, vouchers or issues in vouchers, settlement operations, issue invoice for customer/company representatives/distributors/agents and ability to add minus quantities.
If a company is running various promotions you  can track how successful promotions are going.
If a company is dealing at multiple locations, you can automate and ensure that prices are consistent.
Faster transactions (with the help of bar code scanner) benefit staff and customers to significantly speed up the checkout process.
Check out How SolutionDots Human Resources (HR) and Payroll enable HR and payroll departments to access, process, operate & manage all aspects of the organization's hire-to-retire cycle and payroll functions.
Point of sale systems simplifies accounts management and accounting processes.
It is easy to look up any past instructions with in no time.
You can automate purchase order process to make sure you never run out of your hottest selling products.
POS provides better and faster service rather than old fashioned methods.
The POS system reduce paper work, instantly update inventory amounts and can produce accurate reports.
POS give opportunity to analyze sales data, revenue, cost and profit. So you will know what items needed to be ordered and in what quantity.
EPOS system provides off site access so you can manage and monitor your business via internet from anywhere anytime.
EPOS system allow businesses accountability by accurately monitor and record staff activity.
POS system help you to identify gap so you can manage or plan strategy to fulfill.
SolutionDotslisten customers  objectives and aims. SolutionDots team develop a stratigic plan that works for you… Come up with inspirational creativity with WOW factor.
Company never forget about Client Confidentiality and Privacy that's key fundamentals of our company & to our customers. Our company is providing best point of sale software for a small businesses and large sized as well.