Why Artificial Intelligence is Best Recruitment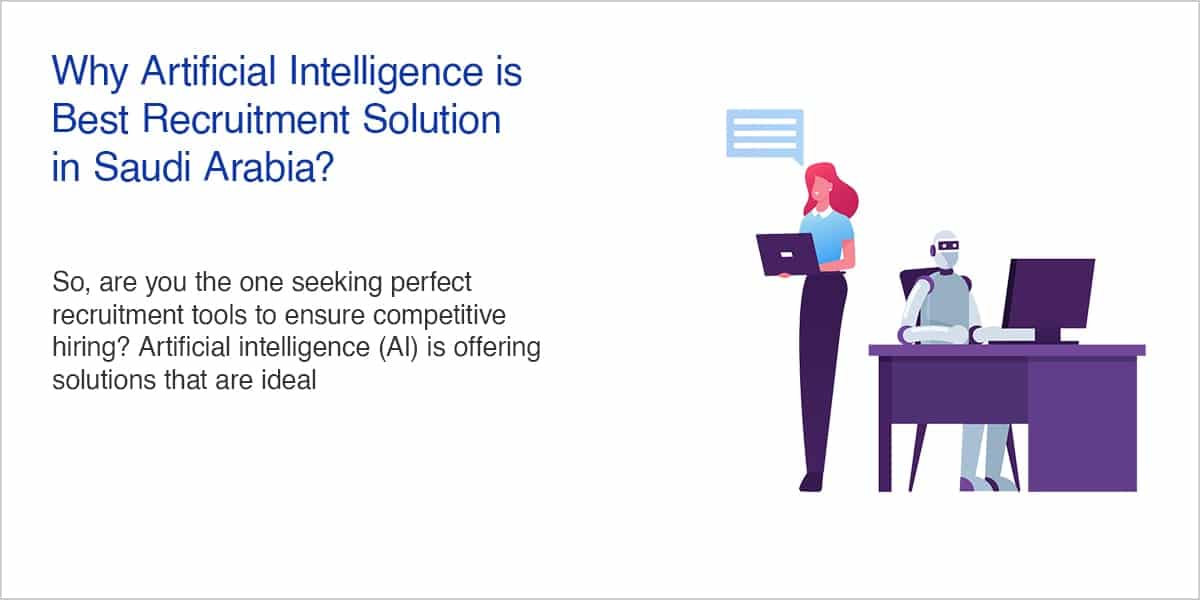 Are you seeking around for a reliable recruitment tool for your business? No more need to consume time in a search here and there but artificial intelligence (AI). AI is offering ideal solutions for recruitment, resource management and other processes of the small business.
Let's suppose you've started a business since 10 – 15 years ago and suddenly after a long time you start realizing that the processes were wrong. All of the processes are dependent on some specific person and you need to do it all by yourself. You're doing different tasks by yourself i.e. accounts management, bookkeeping, and payroll calculation. And now after 15years, you got realized that these operations couldn't be fulfilled without you. So, the operation will not complete smoothly if you're out from the office. This is not a good approach to management. Now you need to hire professional resources that help in tasks management in difficult scenarios. It may secure your precious time and make business more productive. Hiring right candidate means your recruitment process should be organized, automate and well organized. Here artificial intelligence (AI) is a perfect solution due to unlimited reasons. Some of them are discussed below:

Massive Data Search with Artificial Intelligence Tool
Every small business owner wants to hire the best candidates but still, it is almost impossible to review every resume separately at the time to opening. Having not a streamlined approach to search for perfect candidates is quite disappointing. Therefore, you've to make a process that enables easy candidate access and research for the best to meet expectations.
Technology is continued to provide solutions but AI is one of the ideal resolutions. These solutions enable easy access through proper criteria in the form of resume screening, and online assessments. Let's suppose you're hiring multiple candidates at the same time, interference of AI is going to support you as a blessing. Artificial intelligence is helping in improving the hiring decisions for a variety of companies and on the other hand also enhance a candidate's experience.
Furthermore, AI can simply eliminate the effort of search and separate irrelevant information. It can easily ignore all irrelevant data and automatically recognize real-time information. A well-organized research process is going to ensure organizational success.
Integration with ATS
Applicant tracking module is a tool that supports filtering resumes according to the keywords. There are a lot of businesses using this module to simplify their hiring tasks. They can simply search and sort resume according to keywords and can immediately access if needed.
However, WorrkBox application tracking software let the applicants simply craft their resume by inserting the right keywords so, they'll be easily searched and ranked. This is a disadvantage too, if you're are interviewing a candidate who is dishonest and just ranked their profile or resume with keywords support. You'll waste your time as well as money if they got hired.
Artificial intelligence (AI) collaboration software can easily pull up all data from a variety of sources to access perfect candidates. In simple words, this is going to be an excellent approach to access data related to candidates through different online tools including social platforms. It secures recruiter's time and organizational investment.
Easy Candidate's Pre-Screening
Once you've received a complete list of candidates (the one who are probably perfect for the job), now the next step is to connect or communicate in different ways. You have to connect them through email or by making the call. This is a time to get yourself prepared with prescreening questions. So, AI is offering a solution in the form of chatbots. They're liable to perform prescreening test/interview on your behalf.
This is going to be an ideal solution to integrate such bots for with an ATS tool. The questions should be well-planned and organized according to the provided information and job opportunity.
Passive Candidates Identification
Passive candidates are the ones who're interested in finding a good opportunity but haven't started the search process. They might already hold good positions because they're highly qualified but there are a variety of reasons behind their dissatisfaction. AI passive candidates analyzing tool enables in to find them through different factors.
It can keep the passive candidates engaged as like the other ones. Such candidates can be found on different professional websites. Keeping them all engaged and identifying their influence is essential to encourage a good workplace environment and ensure growing opportunities.
Interview Scheduling and AI
Engaging candidates and improve communication leads to interview scheduling. Integration of right tools direct towards setting up meetings according to time and date comfortability.
Artificial intelligence (AI) has required to raise machine learning for human resource managers and SMBs owners. They need to stay up-to-date in order to hire the best candidates for their organization. If you're in a developing environment, AI shouldn't be just a tool for your company but a game-changer. You can be more focused on the interpersonal skills of candidates during the interview and get the best out of them.

Connect With Us
Search
Recent Posts