Talent Management System (TMS) by SolutionDot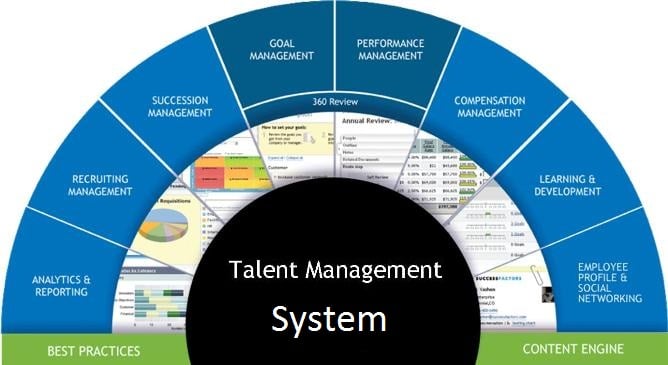 Talent management system (TMS) is a human resource strategy to improve the business worth and to make it possible for organizations to reach their goals. It is also an organization's commitment to recruit, retain and develop talented employees.
Talent management system is a software developed by SolutionDot that addresses to the four pillars of talent management
Recruitment
Before HR managers can develop talent, they need to get high-quality candidates in the door. Recruitment can assist the talent acquisition process by helping HR managers to exploration, source, communicate with and continuously involve potential job candidates.

Performance Management
In performance management, the manager discusses all strength, goals and area of improvement of employees with him in details annually.
Compensation Management
Compensation management can optimize salary, bonus and other benefits of employees. A key function of compensation management is to attract and retain talented employees.
Learning & Development
Learning & development are the important points of any talent management system, according to these two points' essential training given to the employees for the progress of their career development.
TMS has changed the life of human resource management by sharing their load, this is a software that keeps the record of each employee of an organization. A talent management system helps in managing the following things:
Performance Management
Performance management is a procedure which allows managers and to employees to work together to plan, to monitor and review an employee's work objectives and complete influence on the organization.
Goal Management
Goal management allows the management to define department's, employee's and company's goal and objectives. It is more than assigning goals and reviewing employee performance.
Compensation Management
It is a general policy applied in combination with specialized software, it is designed to help an organization, maximize the revenues on available talent.
Talent Acquisition / Recruiting
Talent acquisition is a process of searching and obtaining skilled human labour for organizational demand and to meet any labour requirement.
Career Development
Career development is a process of managing learning, work, and leisure. In this process, different aspects could be managed and reviewed which may affect our career development in both positive and negative points.
Succession Planning
A process for the identification and development of new leaders who could replace the old ones after their retirement or resignation.
TMS developed by SolutionDot keep the track record of an employee's performance from its joining date. It helps the human resource department in the evaluation of employee's performance from start to end. This performance record includes employee's tasks details, task completion time, and improvement with the passage of time. TMS plays a vital role in employee's increment, annual bonus, and other rewards. TMS helps the organization on the identification of good resources. With the help of this talent management system organization get a chance to discover the key players of the organization, they can motivate them in different ways. On the other hand, the organization comes to know about the other employees whose skill are needed to be polished and require proper training for the purpose of improvement.
Conclusion:
SolutionDot has developed a key solution for the assistance of human resource management in the form of TMS. It will share the burden of management and help them in managing the resources on the basis of their performance.

Connect With Us
Search
Recent Posts