Best School Management Software for Better School Operations ROI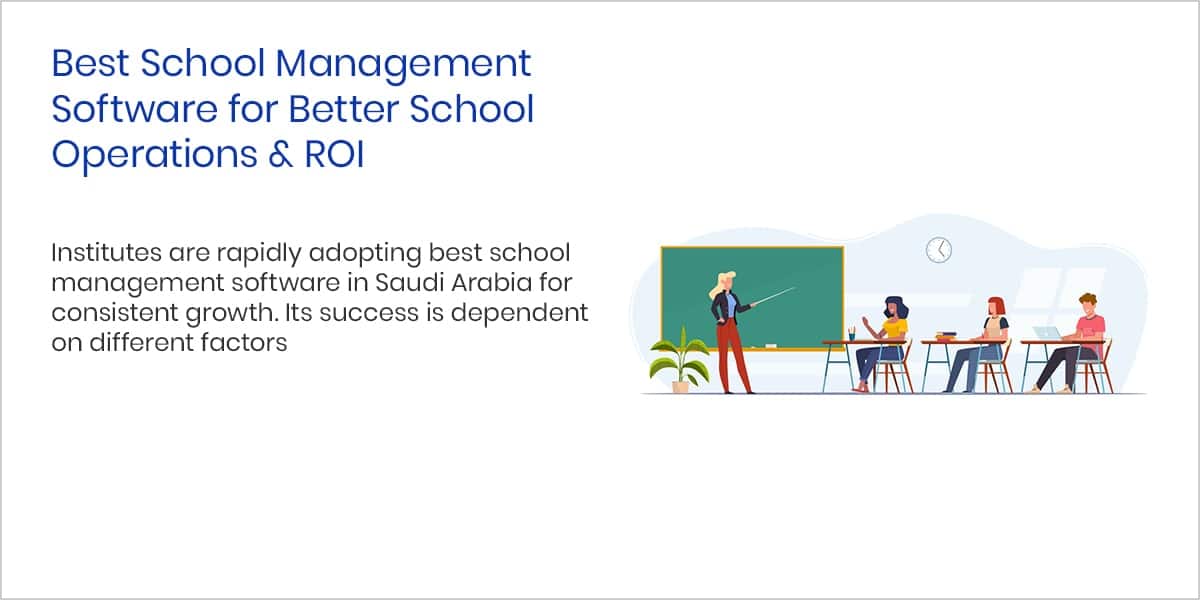 Nowadays, technological systems are being used for every work performed for an office or personal capacity. The process of digitalization has significantly modified the working approach in a better way. In other words, we can say that technology implementation has revolutionized a variety of business process. Now in the form of school management software, it is also reforming the world of education.
Smart classrooms with technological implementations have given an attractive approach to learning. There is a wide range of educational tools available in marker to improve learning processes. Significant outcomes can be observed through the better institutional atmosphere. Nowadays competition ratio among students and educational businesses are quite high. Therefore, institutes are improving administration as well as management processes than earlier. The rising demand for improvement and market competition inspire schools to embrace technology for management automation. The best school management software is a complete solution that supports in taking care of all operations.

Why Should Institute invest in Best School Management Software?
Nowadays schools are interested in adopting the right software for the management of an institute. Return on investment is the major reason behind the adoption of cloud based school management solution. Before deciding to adopt cloud based solution institute should look for different factors including budget, features and other things. This review is going to help in determining business ROI that would be attained from best implementation. Such software is offering a lot of cost-efficient features to make things easier for school and collages.
How Best ERP School Management Software Help Institutes?
School management solutions is a suite with the integration of a variety of features. This software is developed and implemented to empower school and help in working efficiently. It significantly improves the performance and management criteria for an institute. Successful of right software able schools to divert their focus from different tasks i.e.
Management of endless paperwork
Physical files and reports maintenance
Additional man force for different tasks
Engaging teachers in administrative tasks
Manual performance management for students
Cloud based school management software is a seamless solution with significant features and automated routine operations. It successfully saves manual efforts, therefore, this is a right time to make best efforts.
How School ERP Software Help In Saving Investment?
A successfully integrated ERP software is a comprehensive solution having a different feature that supports it to perform different functions. These functions are powerful enough to manage different tasks and help in reducing unnecessary costs. ERP software modules are separate for different stakeholders i.e. parents, teachers, students, and management. Due to these modules, all stakeholders have easy access to all critical information according to their relevancy.
Every module of best school management software has different functionalities according to the authorization and type of stakeholder. It supports in improving school operations than earlier. Implementation of the right solution with integrated modules improves the communication level among all stakeholders. They can easily get in touch anytime because it has enabled instant communication.
School management software has made the administration easier and simpler than earlier. Otherwise, it was a difficult and time-consuming job. A lot of administrative tasks need to be performed by a school that is simplified by the dedicated solution. A lot of efforts and time can be saved with the right solution. As a whole, the software helps in simplifying the following processes significantly.
Student Registration
Admission
Examination
Fee Management
Students' Progress
Academic Management
How Best School Management Software Support in Getting ROI?
ERP software is important to improve school return on investment. All of the components of a software solution are well-organized and optimized. There is a need to tailor a plan by outlining general expenses as well as routine income of school with respect to ERP implementation cost. In order to understand that how software is best in different situations, you need to find the best approach. Institute should calculate economic implications before ERP integration.
With the help of best school management software, the institute can bring down different costs including installation, hardware purchase, communication, printing, and administration etc. School can streamline all operations through the right software solution and will be more focused on successful goal achievement. It also helps in establishing and maintaining the standard of education for students. It significantly supports the schools in meeting various challenges that management may face in routine operations. This is an approach that demonstrates how successful ERP software integration positively improve return on investment for only for institute but also for parents, students and staff members.

Connect With Us
Search
Recent Posts