Supply Chain Management in Saudi Arabia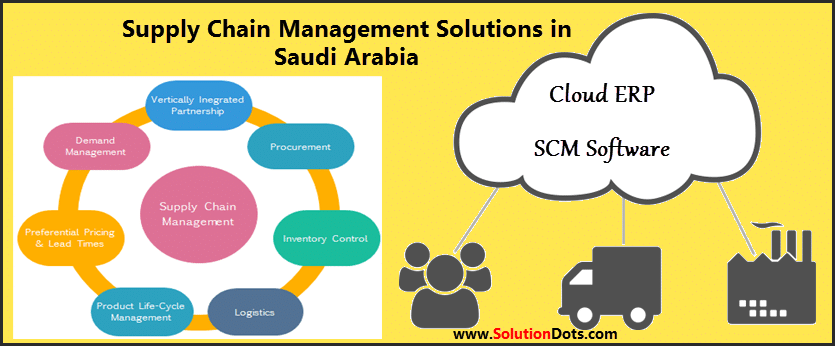 Are you seeking Supply chain Management in Saudi Arabia?
Don't worry about! our company offering best SCM Solution for Saudi Arabia.
SolutionDots offering Best SCM Software for your Business. With a lot of features

Why You Need to Hire SolutionDots for Supply Chain Management in Saudi Arabia
The term SCM (management of supply chain, supply chain management) refers to the tools and methods whose purpose is to improve and automate the supply through the reduction of inventories and delivery times.
The term production "just in time" characterizes the concept of minimizing stock throughout the entire production chain.
SCM tools are based on information about the production capacity is in the information system of the company to place orders automatically. Therefore, the SCM tools have a strong correlation with the overall management of the company (ERP, Enterprise Resource Planning in English) within the same company.
In theory, a SCM tool allows you to track the passage of pieces (traceability) between the different participants in the supply chain. Management Solution for Automotive Supply Chain SolutionDots (SD) provides a set manufacturer and supplier of tools needed to manage the supply cycle, from the first set of requirements to ongoing monitoring and performance improvement.
The solution provides a platform that classifies the supply chain according to profiles, categorizing the structure of the provider by geographic location, capabilities, etc. Once the framework is established, the OEM communicate effectively the needs of the company and also responds to the demands of the supply chain.
In addition, the purchaser may create and manage orders for Quote (RFQ) documents.
Specifications and other relevant data to be shared in real time.
This improves communication and understanding among potential suppliers, facilitating better negotiation process.
The selection of suppliers is one of the most fundamental and difficult decisions in the development process.
In almost all cases, most of the total cost of delivering a product derived from the supplied material, which is determined at that time.
This decision was not taken lightly and usually entails the collection, organization and analysis of complex information from different suppliers.
SolutionDots System allows the buyer to collect data for comparison and effective study and determine acceptance criteria for an objective view of the collections supplier responses.
The process of supplying the automotive sector is not completed with the awarding of the contract. Still later, they have to exchange critical data. SD solution enables OEMs and suppliers to continue the collaboration in the development stages, ensuring that the rate of production is maintained and avoiding costly misunderstandings. So, change requests are handled, stored scorecards and quality plans are developed in conjunction with OEMs and suppliers. Performance history may be used in future supply tasks, to ensure that the supply chain of the company is suitable for successful deployment and product launch.
The Automotive Supply Chain Management Solution Includes:
Management database suppliers
Management of tendering and e-RFx
Contract management
Development, evaluation and management of the supply base
Management simultaneous style
Library management for parts
Management, reuse and usage tracking parts throughout the lifecycle
Reports on materials
Collaboration PPAP / supplier
PPAP / PSW (approval process for production parts / guarantee shipment of parts to the customer)
If you really want to free test Drive for Supply Chain Management in Saudi Arabia. Just click below test drive link

Connect With Us
Search
Recent Posts