Talent Management Software for Small Companies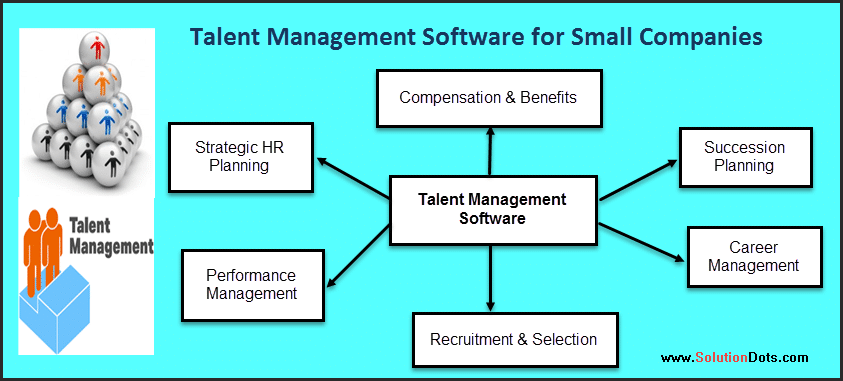 Talent Management software is a term used by the Human Resource department describes its loyalty for a company to hire, manage and retain talented superior employees. When opportunities arise effective strategy of talent management enables various departments of the company to identify available talent. TMS gives significant role, responsibilities to managers in the recruitment process and retention of company employees.

Some companies add only superior employees in talent management system other include every employee in it. In markets now days number of software's related to talent management are available for small companies.
TMS's improved hiring process and revolutionize HR department. Snag best and talented peoples before your competitor companies do. The Software manages performance of each employee so HR managers on the basis of accurate results can bring out best employee. To understand employees better determine what motivates whom by knowing their strengths, weaknesses, abilities, likes and dislikes. Different companies utilize talent management software for their benefits regardless of their size and belief in the practice.
How to Develop and Implement an Effective Talent Management Strategy Plan?
HR (Human Resource) group of companies struggles to formulate a talent management strategy that works out their organizational goals and strategic priorities. Companies who are working without any goal or vision cannot survive in market competition for long intervals of time. The hardest part for companies like this is to start working with a new framework and strategic goal plan.
In this article TMS for Small Companies we are going to describe the steps for strategic planning process. So you can easily use these steps for your own Human Resource talent management software.
Identify Goals/Priorities
Find out what is your company strategic high level goals/priorities. Identify upcoming changes or directions for the company. If you find out new initiatives start listing each of them.
Identify Drivers and priorities
Try to identify key drivers and challenges that can bring harm in to your company to achieve its goal. Find out what challenges your company is facing internally and externally. These factors can include things like High competitive job market, new rules & regulations, employee satisfaction results by survey form and new strategies technologies methods.
Gap Analysis
Identify and analyze the gap deeply in order to meet the company facing hurdle to achieve its goal. Compare your company present state and where you want it to be. For example, if you set a goal to Rank "1" your company then finds out the difference gap between the present state and set goal.
Set Your HR (Human Resource) priorities and goals
Based on steps you perform from 1-3 to identify the challenges, gaps and problems company bear in achieving the target goal. HR can easily set guided work frame lines for companies to get set goal. Make sure that measure of success is included in a way to measure both the implementation and effectiveness.
Inventory Your Talent Management Processes
Do an inventory check of your current HR, talent management processes to determine where you need to make any changes to existing processes. Develop new plans and business strategy to address identified gaps.
Measure the Results and Communicate successes
It's good practice to assess your company HR goals, priorities and measure their effectiveness to communicate results. As you work to achieve each goal make sure you follow the right track so you can report or take correction if you needed. Like above make sure you measure both the implementation and effectiveness. For each HR goal define separate methods to communicate results:
How TMS for Small Companies Help In Hiring Employees?
If your company wants to recruit workforce, TMS will help you to select the best employee suitable with position. Talent management software hiring checklist directly communicates with hiring process and progress in recruiting employees. Here check out the process of hiring an employee.
First of all find out if there is need of hiring a new employee or need to replace the position.
But before hiring think deeply and try to accomplish work without adding any new staff.
Schedule a meeting with recruiter, HR leader and hiring manager or a potential coworker.
Prepare key requirements for the position you seek in a candidate. A Requirement like qualification, characteristics and experience will help HR departments to post jobs on a website.
Assist with Human resource department and decide salary & job description.
Note Tip: Candidates who are applying for the post must prepare interview very well to get a job. Here check out 15 TIPS TO PREPARE FOR AN INTERVIEW at MySaudiJobsblog site.
If an internal candidate is select after interview, then make a written job offer letter that includes new salary and job description.
In case no candidate apply from other company then post your job at social media sites such as facebook.com, Twitter, LinkedIn other professional websites like MySaudiJobs.com
According to requirement short list candidates resumes and schedule interviews. Each company hiring process is different from each other, but technical and HR interview is must in all companies. Some companies conduct telephonic interview when call for meeting. Then after attempting written test candidate have to pass technical and analytical test. When a candidate passes out these phases at the end HR decides salary package and offer a job letter to join this company.
Talent Management Software
Read more about Top 15 Secret Benefits of Social Media Marketing at SolutionDots blog.
Conclusion
At the end we can say that TMS for small companies has provide new ways to HR departments to handle problem faced in hiring employees. By the help of TMS companies can hire the right person for the job. The concept is not restricted to recruiting process only it also help companies to explore hidden qualities of employees.
Give opportunity to develop nurture employees to get the desire results. It help companies to manage processes, challenges, goals and priorities. Software allows you to analyze gap and hurdles in achieving set goal decided by a company.

Connect With Us
Search
Recent Posts