Desktop as a Service (DaaS) In Single View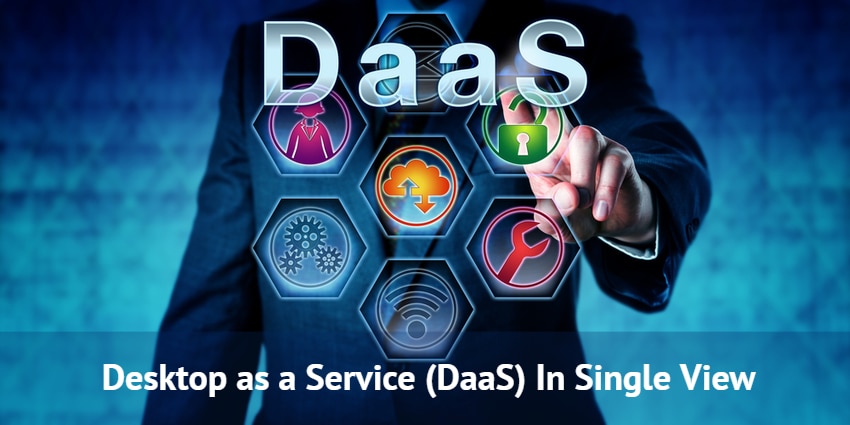 Today's business wanted to provide and develop applications and data without limitation of location and devices. They're also seeking for simplified desktop operations, with enhanced cost management and security for organizational support. Here DaaS is offering its services with high-quality end-user experience with all security measures.
Desktop as a Service (DaaS)
is actually a virtualization service for the desktop that is hosted in the cloud. It allows the users to access their applications and desktop virtually through any device or location. It offers a variety of benefits for efficient infrastructure management and acquires desired business outcomes. Virtual Desktop Infrastructure (VDI) is managed and deployed along with DaaS. DaaS service provider is fully responsible for software security, maintenance, storage and data backup.The virtual desktop is entirely different from physical devices.
Desktop as a Service (DaaS)
automatically stores data to virtual desktops. As it is efficiently synchronized with the cloud. In DaaS customer usually, manage applications. On the other hand service provider is responsible to manage all infrastructure from the back-end. Nowadays DaaS is considering the most cost-effective solution available for the organizations. It is subscribed if an organization found VDI deployment costly. DaaS is a seamless solution for SMBs that may easily come into their budget. This solution brings an ease of administration, with greater flexibility.
Difference Between DaaS & VDI
There is not much difference between
Desktop as a Service (DaaS)
and Virtual Desktop Infrastructure (VDI) solutions. Both perform same tasks and sound quite similar to each other. The significant differences are enlisted below for understanding:
The service provider is fully responsible for DaaS infrastructure management & maintenance. It includes all server, network and hosted applications.
DaaS has diminished the requirement of on-site infrastructure.
DaaS has increased the flexibility, mobility, and ease of experience for the administrator as well as users.
It allows the users to access their desktops through any devices.
While VDI propose complete on-site control and provide an ideal technology solution.
VDI is more mature in license and established than DaaS.
One of the major flaws of VDI is, information technology administration is fully responsible for implementation and VDI management. If there is a need to update some hardware, it may cost separately to an organization. It demands separate infrastructure monitoring and additional investment on the resource. VDI reduces the agility tactics.
Why Should An SMB Organization Adopt DaaS?
Desktop as a Service (DaaS)
is currently considered as the best option for SMBs. Initially, a business can't invest in purchasing heavy applications, resources, and devices. At the same time, they can't compromise the quality of services. DaaS service provider may provide high-quality services in low budget. It significantly saves investments for startup and SMBs in different scenarios. Businesses just need to pay regular subscription fees and may attain complete administration access.It has been observed and experimented through different surveys, that almost 70% of DaaS customers are SMBs. DaaS service providers reveal that most of their clients are with 50 – 100 system users. It could be clearly seen that currently, SMBs are the main sales drives for DaaS service providers.Desktop as a service is technology that may also benefit different businesses including startup and the organizations usually hire employees on a seasonal basis. DaaS implementation is supportive for a business during its high turnover of. Whether a business wants to scale up or down, DaaS support according to the requirement. Technology upgrade rapidly, let's have an example of an operating system as well as machinery. Such upgrades impose immediate expense to an organization. Adoption of Desktop as a service frees up the organization from all such expenses. So, simply DaaS allows the business to free up from all unnecessary thoughts and pay attention to deep and core competencies.
Why Don't DaaS Vendor Focus Enterprise Level Clients?
As said earlier, DaaS vendors focus to SMBs and startup. Now questions arise why not large enterprises? So, the large enterprises or the customers with broad businesses can easily afford the VDI. Their budget can afford the expenses. DaaS is an option that could be adopted by them as an alternative. Therefore, there are especially focused on the vendors.In case of large enterprises, scalability is another important issue to consider. Increased number of users may create complexities of information technology requirements. An organization needs more memory and processing functionality requirements. Therefore it is difficult to adopt DaaS for them. They need an in-house solution to meet all of their requirements.
Final Thoughts
Adoption of
Desktop as a Service (DaaS)
for any business is completely dependent on a business, its infrastructure and core competencies. Requirement and environment of any business are completely different from the other. Therefore, is they need to analyze all possibilities for the best solution. Even in case of SMBs and startup, we need to have deep requirement analysis for best adoption and functionalities.

Connect With Us
Search
Recent Posts