How Event Management System can Maximize Efficiency?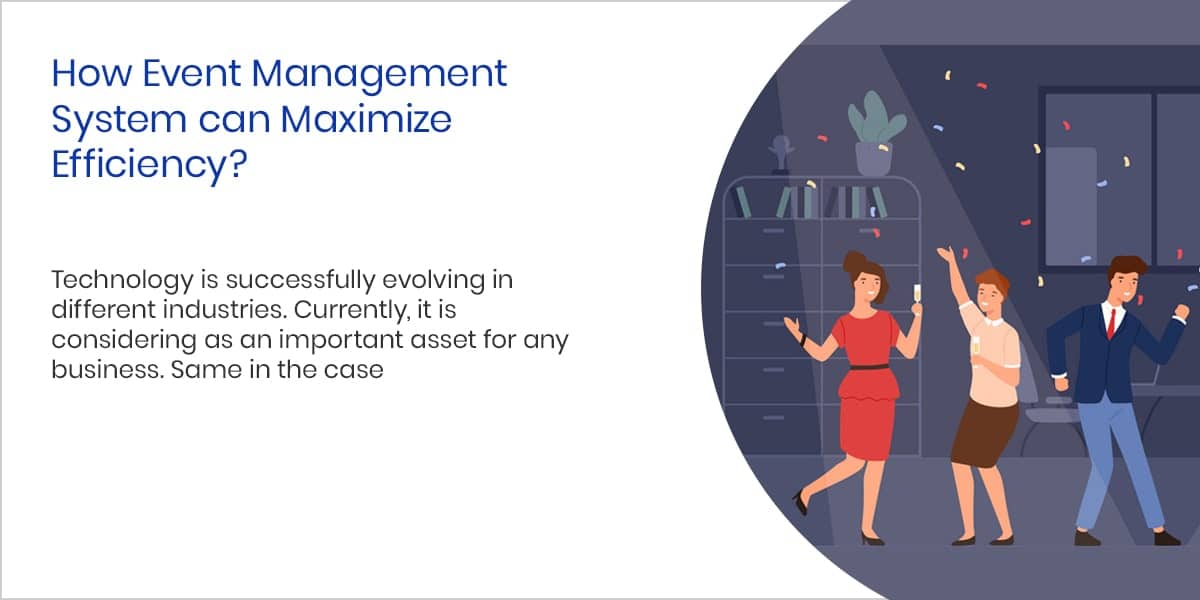 Time wasting actually means money wasting in business terms. If you're using different tools i.e. notepad, sticky notes, files and spreadsheets during the process of event management. It simply means you're wasting your valuable time that may lead towards human errors, lack of communication, process inefficiencies and lowering down the productivity. Investment in the right
event management system
help in standardizing the entire process by efficient use of the software. It automatically centralizes all important data including, guest list, menu, and venue. All streamlined information improve communication among guests, officials, and organizers. It has successfully streamlined the process by automatically keeping all information up-to-date and make it easier to track complete event.Instead of filling your cabinets to keep a backup record you can easily get all the information if needed. One system solution is provided, that empower you with an easy and instant access. As said earlier, business can't afford wastage of time because it causes money loss.
Right event management system
consumes few hours to accomplish a goal and secure a great deal of time.
Event Management Software and Efficiency Maximization Criteria
Purchasing a right software is actually a big decision that couldn't be taken by one or two people. This a complete process that should be standardized according to your business criteria. Read the following points to understand the actual process of efficiency maximization with the right solution. These points should be especially kept in mind while purchasing for effective outcomes.
Ease of Use
Software doesn't mean to increase your efforts but implemented to streamline entire workflow in an identical way. Therefore, before purchasing an e
vent management solution
for you always take a test drive to improve the user experience. A perfect software is always easy to use and understand by all stakeholders in the real world. It supposed to bring an ease in the life of event planner and even could be used by grandparents. So, make sure to ask your vendor for such a solution. An easy and user-friendly software gives a complete platform to the company for a successful event organization whether they're meetings, conferences, and other occasions.
Customer Support
Let's suppose you're an event planner but new user of the software, it assures you to provide complete support. An
efficient event management system
offers complete resource management and provides guidelines to ensure successful achievement. In case of any failure, you can directly connect with concern and resolve the problem. Instant customer support offered by the software vendor can help in handling situation at right time and reduce unexpected delays and errors.
Software Durability
Event management software is not a solution for a day or two, it is going to last for years with the latest upgrades. Selection of platform you should sure that it is capable enough to handle all important tasks of your events. In event planning, you need to maintain competitiveness and manage cost accordingly.If you are new in the industry of event management, such adoption at the initial stage is strongly recommended. It is a scalable solution that is going to support you in discovering all important tasks for the better organization.
Online Schedule Management
Being an event manager, you have to handle different tasks and programs at the same time. The chances of errors are also higher a lot with a great deal of time consumption. This is not a difficult thing that couldn't be handled. Being an event planner, you have to manage a complete time schedule according to different client's requirements. If you're working on a single project at a time, it can be easy to handle and understand. But managing different projects in a day is going to be challenging. But an
efficient event management system
can manage all for you. You can monitor all staff through an online process. Your physical appearance is no more necessary at every place.
Speedy Communication
Being an event planner you're responsible to communicate your team and send invites to all guest by preparing a list. Team communication and guest engagement both are equally important for desired outcomes. An event manager makes it easier until the end.
To be Conclude
During the process of program planning and successful organization, an
event management system
could be a great partner for you. It works as an assistant for personal and professional event handling by successfully meeting all challenges. Just keep your goals of success in mind before investing to purchase a solution. Technology has an ability to maximizing the efficiency in all industries. You just need to decide major factors of implementation and achieve success in your business.

Connect With Us
Search
Recent Posts