Why We Need SaaS Application Integration for Business?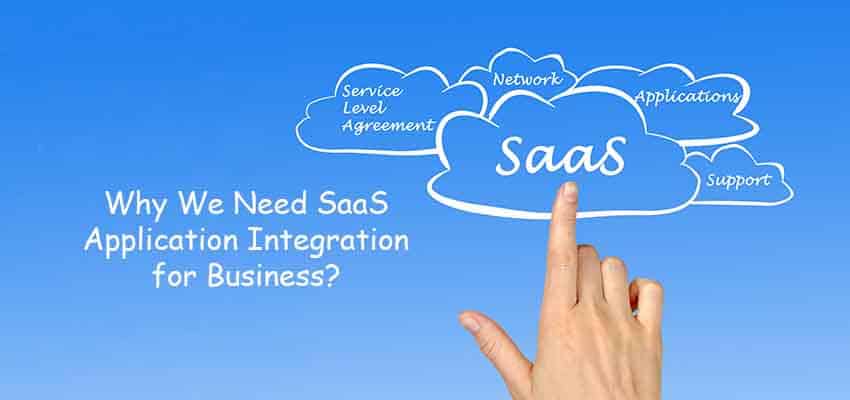 The term SaaS (Software as a service) means a software that is retained, managed and delivered by the service providers. SaaS provider offers a software that actually based on common data classifications and codes. This software is distributed among different customers according to one-to-many model. These customers pay according to the features required to consume. Software as a service (SaaS) application is used as an alternative to a traditional solution. It became easier for the user to install and configure SaaS Application.
The customer doesn't have to pay for the software. It's criteria of working on a rental basis. They are authorized to access the software for the limited time period and pay accordingly. It doesn't require any special maintenance form the user not hosted on premises. SaaS applications execute in a cloud model. It has been predicted by analysts that Software as service applications is going to develop with increased demand.  SaaS is usually adopted by human resource department, different collaborative software and CRM etc. Some of the well-known examples of SaaS applications include Google Applications, Office 365, Salesforce and much more.

Enterprises may use Software as a service (SaaS) for:
Invoicing and Financial Management
Business Sales Monitoring
Strategic Planning
Staff/business Performance Tracking
Communicational Modes
It is today's trend to have a cloud data center that could be easily accessed by BI software execution. This software is linked to cloud based ERP that may include Microsoft Dynamics etc.
Why does Business need To Adopt Software as a Service SaaS Application?
SaaS applications are the currently best solution available for sales and management teams. There are a variety of reasons that encourage a business to adopt software as a service, especially for small businesses and enterprises. SaaS vendor takes all responsibility for hardware and reliable database as well as resource management.
Lower Cost Initially
SaaS application offers to pay just for features an organization need. This is leased on a subscription basis that includes auto upgrade, regular maintenance, and complete customer support. SaaS software vendor offers APIs and improves the working approach for any business. It has lower the cost and easily accessible for startups. No need to hire extra IT resources for software execution and integration. It could be done in minutes with few clicks. In fact, the customer is allowed to eliminate and include the features according to their business requirement and budget. Cost is completely dependent on business own demand.
Instant Deployment
In case of software deployment, SaaS application is entirely different from traditional solution. It is already connected and configured. It is offering ready to use a system that cuts off time and enable rapid installation. Along with SaaS solution vendors are also offering a free trial for the limited time period. It is beneficial for an organization because they're able to check compatibility before making a selection. Free trial or demo make it easy to learn about software usage with immediate effects.
Eradicate Infrastructure Complexity
If an organization is using SaaS application to perform their tasks efficiently, it automatically removes the complexities. The customer doesn't need to take tension regarding infrastructure management. SaaS vendor is fully responsible to handle complete IT infrastructure. Management can spontaneously pay attention to core business strategies instead of worrying regarding the hardware & software management.
Seamless Upgrading
In SaaS implementation, remember, it is hosted by the software vendor. They take complete responsibility of software upgrading. They are also responsible to ensure software reliability and data security. It offers automatic, seamless and rapid upgrades. The customer doesn't have to pay separately for these upgrades because it includes in their subscription package. Upgrades of SaaS software are frequent and automatic. There is no need to download or install software patches. It always offers most updated software with enhanced services.
Software Scalability & Integration
SaaS applications are mostly developed to support customized solution for a business. The vendors develop APIs that support in internal connection of applications like CRM and ERP along with other service providers.
A growing business needs to be scaled according to its evolution rate. They essentially require a software that could be easily scaled up and down along with the business. If the software is non-scalable it might be a problem for the business. Therefore, SaaS is essentially developed to move with business. It efficiently meets the requirement of software scalability and maximizes the performance accordingly. You can simply adjust the subscription plan according to required capacity.
Remote Working
SaaS software is accommodated by cloud therefore, it is easily accessible through all devices. In the availability of the internet, the user is able to access the software via smartphones. Customer detail, employee history and business performance all data is easy to access. In other words, all is in your own hand. No need to carry a lot of files in meetings and worry to manage your business while enjoying your holidays. Everything is in your hand and SaaS application allows to you instantly access the internet.
Data Security
Businesses are anxious about their sensitive information that include customer as well as employee data. So, your information is more protected in SaaS applications instead of traditional software solutions. The chances of data redundancy or lost are almost diminished in the cloud. It develops a level of trust among business and SaaS vendor. All of the data could be automatically backed up. It ensures data integrity for a business.
Final Thoughts
SaaS adoption is rapidly growing. Businesses are constantly adopting it, especially for sales, management, and marketing. This trend is entered into market and industries are appreciating. It is offering a conventional technique to develop enhanced business environment. Its advantages are remarkable that support a business in saving their time as well as investment. SaaS application integration is nowadays considering the well-balanced and right decision.

Connect With Us
Search
Recent Posts