Steps To Become Better Property Manager with Lease Management Software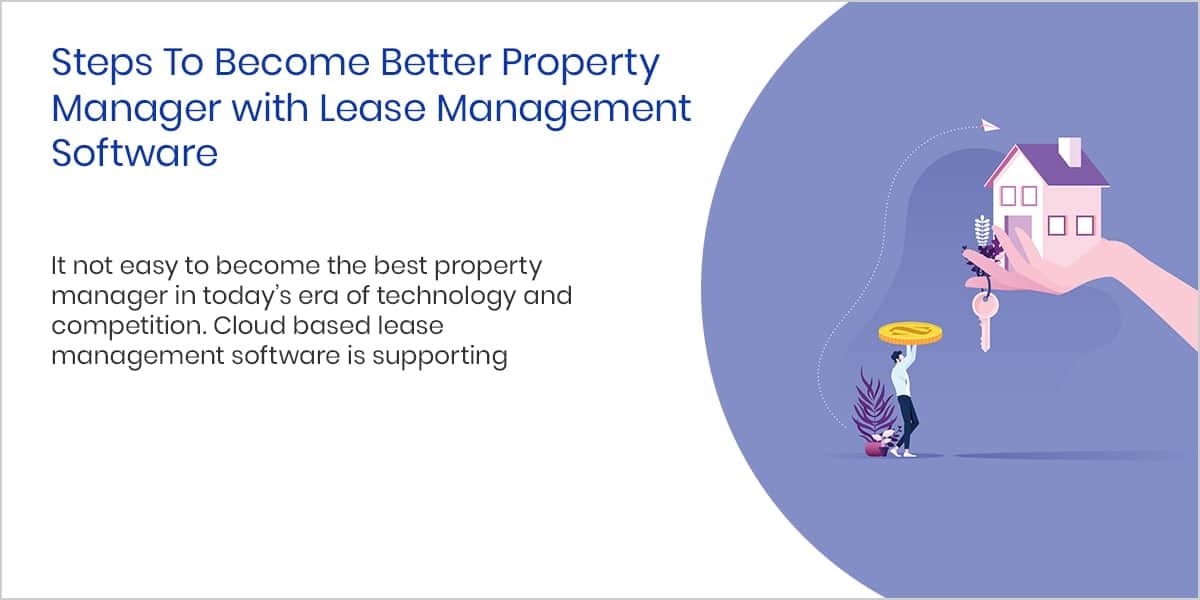 While investing to rent properties, a lot of important tasks need to be considered and done on-time. They're not one time jobs but need to be performed on regular basis. Starting from an advertisement placement to making calls and showing the property is a responsibility of the landlord or the property manager. A good property manager should successfully own all traits including good communication, experience, professionalism and most importantly time management. Along with these qualities, you should also have specific tools that can help in the achievement of ultimate success. Whether you're a property management company or a landlord implementation of
lease management software
means a lot for success and better customer satisfaction.The industry of real-estate management is rapidly growing and offering unlimited opportunities for agents to combine their qualities along with technology. Cloud based solution is supporting to attain a competitive edge and improve the efficiency of efforts.
How does Lease Management Software help to Become Better Property Manager?
Communication & Collaboration
Communication is the foremost skills for the property management. It helps in ensuring the customers that they've got the right solution at right time. By communication skill, we mean the ability to listen to customers, discuss & explain and create the complete task list to eliminate conflicts. Communication is not just a discussion but to create a complete plan to meet the goal.Here the property managers can use the
right lease management software
to make things more visible demonstrate the entire scenario. As the information is more visible, it helps in making a better decision and stepping forward to right solution.Along with client communication, there is also a need to improve the collaboration within the organization. A property management software helps in improving internal collaboration with BODs, owners, and others. Different decision-making authorities of a business might be working at different locations but need to access the same data and information. Lease administration software support in working seamlessly without interruptions. Enhanced collaboration and visualizing information lead to quick issues identification so, the resolutions could be found more efficiently.
Enhanced Experience
Proper management is not easy, like all other industries it needs time and experiences along with better tools utilization. A real-estate manager with no tools and nil experience couldn't grow because they can't organizer tasks accordingly. Old resources and tools are also not much helpful in organizing things. This is not a person's choice but a market competitive requirement.
Cloud based lease management software
is the best solution with unique features and a user-friendly interface.Web-based solutions enable easy, quick and seamless data transaction to streamline informational flow. There is no more need to run a software and keep different data backups for security and disaster prevention. Its built-in disaster recovery plans and regular data backup secure business form different challenges. We can say that such property management solutions are actually the backbone of real-estate management.
Mobility & Agility
Being a property manager you have to visit different clients at their place instead of calling everyone to the office. Property management is required to share information and provide services anytime and anywhere. While dealing with clients, you can't ask them to wait longer for the required solutions. As technology has been improved and clients need immediate solutions or at least your authentications.
Cloud based lease management solution
offers flexibility to work from different locations at the same time. You don't need to stay in office but can manage things while on the field. An internet connection availability enables easy to access all your business data through smart deceives including laptop, iPads, smartphones, and tablets etc. So, now you can work while traveling or enjoying holidays.
Enhanced Trust & Improved Security
Property management is all about the trust and reliability. You need to build a market reputation by earning the trust of your clients. Property management software is not only helpful to run business operations smoothly but also to earn a good reputation and client trust.If you're using a software with low-security measures and unable to meet industrial standards this not just risky for your business but also for client's important data. Don't forget, you're working with sensitive information and hold financial information from your clients. Therefore, it is necessary to maintain industry standards and use good
lease management software
.Most of the property management doesn't invest to have an in-house server because it is quite expensive and need special staff for management and maintenance. So, cloud based solutions are the best option that facilitates with advanced technologies and manage most of the organizational tasks without extra expenses.There are a lot of companies offering
cloud based lease management software
across the world. You need to go for the one that fit all business needs and comes into your budget.

Connect With Us
Search
Recent Posts