Top 7 Pros of Cloud Asset Management System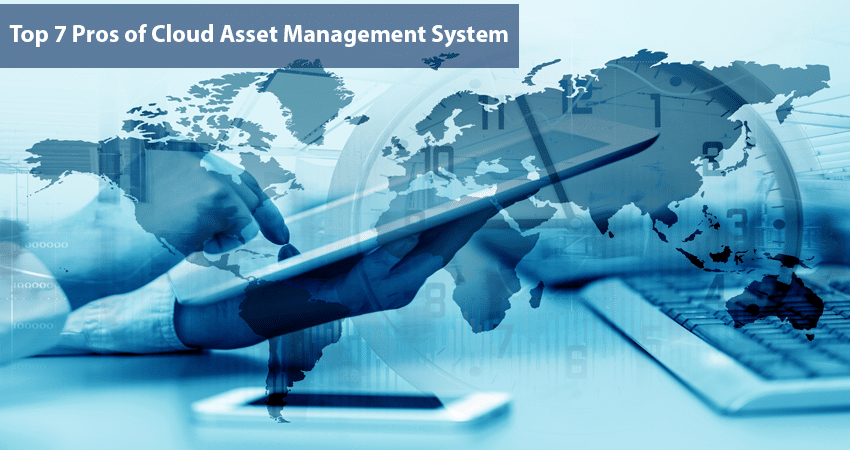 Do you have an idea, where the assets of your company are utilizing and what is their current condition? Asset tracking is essential to any organization for its continued growth and increasing profitability. You should be able to track them from the purchase to the disposal.
Cloud asset
management software is available for help to take an immediate and real decision regarding your inventory. It supports in tracking the physical condition, location and enable scheduling for maintenance. Real-time tracking is possible through the software with the support of barcode, RFID tags, and GPS. Assets management solution helps in maximizing the asset efficiency with minimum loss.
What is Cloud Asset Management Software?
This is a software solution that helps in tracking the movement of organizational assets including a variety of devices, inventory, and IT equipment within the company. Physical tracking of assets along with maintenance and sharing quantitative record is the responsibility of this software. Through efficient tracking, the software helps the company with regular maintenance scheduling to prevent major loss.
Pros of Cloud Asset Tracking Software
There are countless reasons why a business should implement an asset tracker, some of them are enlisted below.
Enables Asset Recovery
An organization might handle a hundred and thousands of assets, if any of them is detached, the tracking process could be quite challenging. They need to spend additional manpower that causes a great loss of productive time. The situation can be more critical if the company is encountering a delay in production and delivers. You may encounter customer complaints and additional cost.
All of the above-mentioned challenges can be avoided by using
asset management software
. This software is going to support you in finding out the physical location of the asset by tracking with GPS.
Better Customer Services
While signing a contract, customers always expect positive ROI. They expect to have real-time information about the accurate location of all their assets.
Cloud Asset tracker
allows you to an eye to all customer's assets. You can simply monitor the movement of assets through internal processes. Wide-range of opportunities to enhance the production will uncover to you.
Real-time Asset Management
Through using an asset tracker, you'll have a clear picture of all business properties. You can easily track the arrival, departure and another movement to a specific location. Precise tracking is possible with efficient data management.
Cloud based asset tracking solution
helps in recognizing duplicate record and eliminate it to avoid misperception. Let's suppose, you are allowed to assign a unique number to an asset for easy identification and prevent data from duplication.
Avoid Unnecessary Maintenance
It seems crucial to monitor the entire life cycle of all assets and take a lot of time to complete. You have to manage essential information about i.e. purchasing date, its usage and plan and maintenance schedule etc.
Incomplete information may harm operational efficiency of and lead to additional cost. Right cloud asset management software helps in monitoring and forecasting the situation that replacement is a need or not.
Maintenance Tracking
Assets maintenance is quite crucial for operational efficiency. An
advanced cloud asset management system 
allows you to set repeated alerts for regular maintenance. These alerts keep you update regarding the previous and current condition of equipment. Furthermore, you can directly store information for maintenance in charge to avoid expected delays.
Most of the times organizations are still using manual methods to schedule and monitor the maintenance schedules. The periodic maintenance of equipment is quite crucial. The scheduled alerts of right software ensure not more delay by alerting all relevant people.
Accuracy Assurance
Using a tracking software actually gives a peace of mind that business has successfully achieved the maximum accuracy in equipment monitoring. Software support in consistently tracking bypassing all internal or external audits for the organization.
Automatic asset tracking supports company in sharing real-time business, customer and vendor information. You can successfully scale the organization and customize the format of reporting according to requirement.
Asset Audits
Asset audit whether externally or internally is crucial for all organization and give a lot of strain. These audits are essential to identify the assets and current condition. Business might experience additional costs for ghost in the form of taxes and fees.
Cloud based asset tracker helps in performing such audits and increase their visibility. This increased visibility reduce compliance risks by sharing accurate data also help in effective decision making.
If your business wanted to achieve an effective equipment tracking and control inventory through real-time solutions.
Cloud asset
management software helps in better management to fulfill organizational bottom-line.

Connect With Us
Search
Recent Posts