Top 10 ERP Software Companies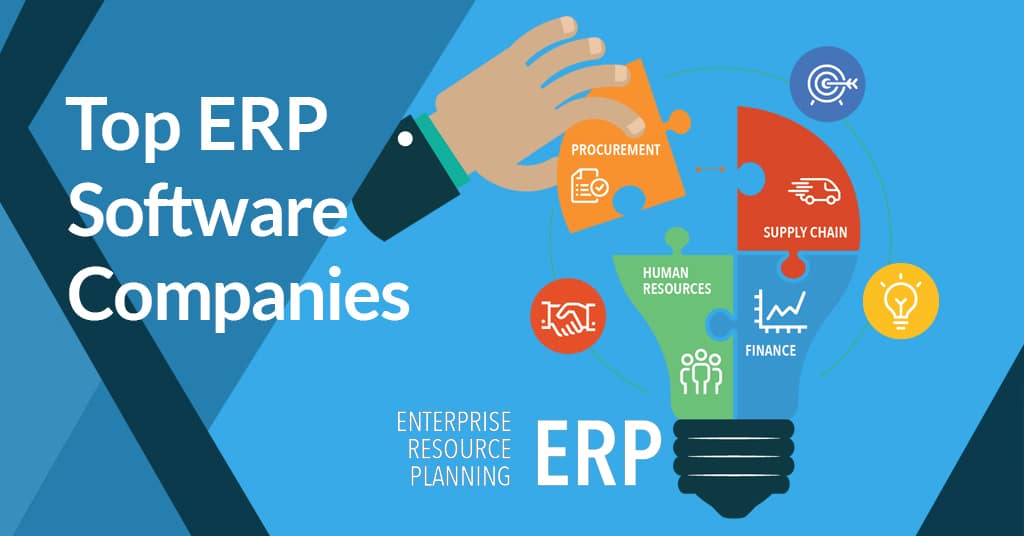 SDSuite®
SolutionDot is a Software development and IT service provider Headquartered in KSA. Facilitating with its software solutions from years. SDSuite® is a cloud-based ERP specially designed to run organizations infrastructures more efficiently. This Financial management software restructure your accounting, planning, consolidation, reports, tasks and analytics in a single administrative platform. Software combines services like intelligence, databases, networking, storages, analytics, servers etc within one platform. Helps to eliminate the usage of On-site data centers, software patching and IT management which consume a lot of time.
Drive Growth with Cost Management
Ensemble the leaders with most relevant and applicable financial intuitions through all available devices.
Grasps Business procedures and report the changes without having any disturbance
Utilize a single but comprehensive system over whole organization with a Rapid and accurate view of entire business.

NetSuite
NetSuite is owned by Oracle Corporation, a tech giant in computer technology.  Providing ERP solutions and cloud-based financials for business in more than 100 countries. NetSuite ERP is built for fast-growing, mid-sized, and large businesses. It offers a centralized solution for your enterprise from the top management to the key clerical staff. Automation covers front- and back-end processes involving order management, inventory management, financial management, revenue management, billing, and fixed assets — a fantastic combination of business intelligence and financial management operations.
Why choose NetSuite ERP?
Supply chain visibility with end-to-end, procure-to-pay processes
Fast order-to-cash process with a seamless flow from order fulfillment and processing to invoicing and payment.
Revenue recognition management with accounting standards.
SYSPRO
SYSPRO is a software company that develops integrated business software applications. Founded in 1978, the company has a large customer base, especially in the mid-sized enterprise market.SYSPRO ERP is an industry-built solution, particularly for manufacturing and distribution. Available in the cloud-based and on-premise setup, with a rich set of modules to benefit businesses streamline their operations. A centralized solution to monitor your operational, financial, and manufacturing management.
Why choose SYSPRO?
Trusted ERP name from 40 years, facilitating preferences of many businesses with industry-grade features.
APIs can be seamlessly integrated with external systems and intelligent devices.
Utilizes BOT agents to expedite redundant processes, improve supply chain collaboration, and make operations more efficient.
Oracle ERP Cloud
American multinational tech Oracle was recognized as the second largest software maker in the world according to revenue in 2015. Oracle ERP Cloud is a product by this tech giant. Oracle ERP Cloud was first introduced in 2012. This comprehensive cloud-based solution delivers built-in industry standards and the best, modern practices. Comprised of 7 software modules to automate core business processes. Oracle ERP extends scalability to planning and procurement, project planning, financials, product lifecycle, risk management, and compliance and governance, among others.
Why choose Oracle ERP Cloud?
Financials Cloud module offers a comprehensive system for generating reports that are built on the analytical model.
Procurement Cloud module is a self-service portal developed for suppliers and contract billing.
Risk Management Cloud is built for financial compliance with risk control repository to decrease the risk of financial reporting.
SAP
SAP Founded in 1972, is a German software firm. SAP serves over 335,000 clients in more than 180 countries worldwide. SAP ERP, an integrated platform includes CRM, financial management, product lifecycle management, human capital management, and supply chain management. It can be used online, deployed on-premise or a combination of both to provide ready access.
Why choose SAP ERP?
An all-in-one business platform to be used by any business of any industry and size.
SAP has a broad network of third-party partners that offer extensive customization and integration support.
Empowers businesses to achieve managerial efficiency and increased staff productivity.
Microsoft Dynamics GP
The largest software vendor in terms of revenue, Microsoft is one of the most reputable companies in the tech industry for decades. Microsoft Dynamics GP is an ERP platform that helps SMBs to efficiently run their operations, supply chain, finance, and a whole lot more. This ERP is designed to work smarter at a faster rate and carry out evidence-based decisions. A full-suite for enabling SMBs to operate and integrate its various operational areas like HR, customer relationship, SCM, e-commerce, field service, project accounting, and finance.
Why choose MICROSOFT DYNAMICS GP?
Allows SMBs to cut IT infrastructure costs without compromising the accounting power of the software.
Business intelligence and reporting with real-time visibility and analytics to track performance.
flexible options depending on where you do business. A service plan helps to stay compliant and competitive.
Brightpearl
Brightpearl is a privately-owned company that is funded by Notion Capital and Eden Ventures. An ERP solution is specializing in omnichannel retail management. It has offices located in the US, Bristol, and Austin. The product, Brightpearl have solutions for order management, inventory management, customer data, real-time accounting, and reporting. A fantastic help hand for handling cash flow, shipments, and insights for SKU, channel, and customer levels. Bright pearl has active integration with various e-commerce sites such as Magento, Shopify, and BigCommerce and online marketplaces like Amazon and eBay.
Why choose Brightpearl?
Specializes in retail inventory processes for single retail, multiple warehouses, and outsourced/dropshipped businesses.
Real-time accounting to stay on top of your accounting with full multi-currency capability.
Bright pearl has a robust connection with various e-commerce and online markets. Manages high volumes of order up to 25,000 orders per hour.
Odoo
The company, Odoo S.A., developed its first software in 2005. Its main product was renamed to Odoo from TinyERP and OpenERP. Odoo is an ERP solution that unifies sales and project management, e-commerce, POS, and MRP in a single tool. The system also gets integrates with sales channels and business management solutions to run your key processes.
Why choose Odoo?
A single solution for all business operations (project management, inventory, HR, CRM, and omnichannel sales), eliminates the need for having multiple applications.
Deployment is available based on preference through cloud hosting, on-premise, and dedicated cloud.
ERP has over 100 modules with the liberty to add more.
Deskera
Deskera founded in 2008, this award-winning software maker is trusted by over 100,000 users, including Google, Starbucks, and Baker Tilly. Its main office is in Singapore. It creates and markets a wide range of business solutions, ranging from ERP and CRM to LMS and HRMS, to numerous business sectors like construction, engineering, and manufacturing. Deskera is a full-suite ERP management solution that offers a wide array of tools and functionalities for solving business issues in the short and long-term. Capable of addressing all business requirements, including financial reports, stock management, chart of accounts, vendor and customer management, billing and sales management, purchase management, and books and invoices.
Why choose DESKERA?
Streamlines workflow, integrate sales, finance and fulfillment teams with smart platform to eliminate billing errors, improve quote accuracy and strengthen revenue recognition processes.
Simplify supplier management to efficiently monitor generated orders, existing and upcoming deliveries, third-party orders, and buyer workloads.
Smart inventory planning to track your inventory and stock levels.
BatchMaster ERP
BatchMaster Software has been in the market for over 30 years. Its ERP products are also designed to assist companies' lower costs aside from facilitating compliance with legal and customer requirements. It's designed for processing industries to remove the complexities in managing the supply chain by centralizing all business processes. Streamlines business processes, from procurement to sales. Benefits business from lessened duplicate data entry, easy information access, enhanced production processes, and faster workflows. The software also includes tools for tracking and compliance, packing BOM, mobile warehousing, and batch production, among others.
Why choose BatchMaster ERP?
A centralized platform and allows all involved individuals to be on the same page in working effectively, whether individually or as a collective whole.
Real-time business insights to make simple and crucial data-based decisions on the fly.
Compliances, the organizations in meeting the standards and policies set in their respective industry by allowing them to track and trace pertinent data.

Connect With Us
Search
Recent Posts