9 Most Trendy Elements & Techniques in Graphic Designing
Today I'm going to discuss about the most extensively used techniques and elements in graphic designing field. These techniques are being overused used by the designers from 2013. Before listing all of these 9 trends lets define how do think about term graphic designing. For me graphic designing is an art of communicating or a way of conveying your message through images, logos, and graphics or by words.
Whenever you try to find something new inspirational you got bound to come across with these techniques, elements, effect, etc. These things are neither good nor bad; just you have to mold them as per your client's requirements and their wishes. Now we'll go for each element one by one. For images curtsy in articles I would like thanks the Google.

9 Most Trendy Elements & Techniques in Graphic Designing
1. Rays of Lights/Sun Rays

The most overused graphic art is a sun ray technique. In most of designed this rays of light are being used as background. Now days it is very famous to keep sunny theme in background & add forefront design wished by you.
The above images are the best examples of 1st techniques according to which they are using sun rays on their back and in front they are showing their acquired elements.
2. Black or Colored Silhouettes
The 2nd most popular trend is about using silhouettes. A silhouette is an art in which two dimensional views of an image are represented with solid black color. The image of an animal, human or objects are displayed as solid with in front of lighter backgrounds.
The trend of silhouettes' is on the second ranked & has been recognized very well after iPods campaigned. You can notice the silhouettes of solid bodies with rays in the background.
3. Ink Splatter
Ink splatter is coming on 3rd position of the trendiest techniques. Ink splatter is an art in which small liquefy moist drops of inks are scattered in an artistic ways to design desired objects. The inks splatter technique gives more funky, cool and unique look to your designs. These are being blended with grunge backgrounds in order to come up with new inventions.

For more innovations in ink splatter technique designers used colored & black inks. Black ink work is more appealing because of its universal versatility with respect to its background. Moreover colored inks are also getting famous for more brightening themes & designs related to Childs.
4. Ornaments/Swirls/ Flourishes Technique
Swirls technique is also called as ornaments or flourishes techniques. It comes at 4th position in the market rank. Swirls technique is an art in which smaller swimming symmetry of twisted, whirl moves is arranged in a manner to give luxurious shapes that seems quite overwhelming.
Flourishes and ornaments best at together, and give organic fresh designs that are so nice to look at.
5. Floating Lines
Floating lines are ranked at the 5th position in the chart. In floating line technique mild liquid line display flowing images. That visually adds movement & fluidity in your designs. Floating lines with other techniques work beyond expectations & give remarkable results.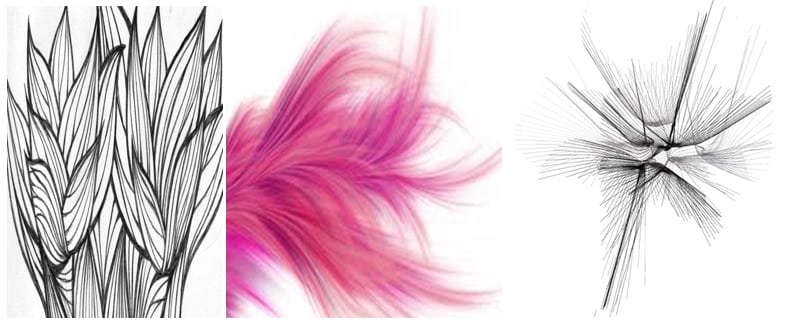 6. Cool Circles
Cool circles techniques come on 6th position. In circle designs, different circles are combined with numerous other designs to come up with new innovations. Now a day's Seamless funky circle with different design patterns are very popular in the market.
Here in below images you can watch various circle techniques designs. These designs are the combo with other elements like circles with a symmetry line in the second image. The technique of using circles in black solid lines is also very famous in these days with plane simple backgrounds.
7. Grunge Techniques
Grunge has occupied the 7th position in the chart countdown. Grunge Technique is usually referred to filth, dirt and sort of rubbish in its meaning. While in grunge techniques designers use to depict the dirtiness as new inventions with different combinations of things that's making it likable & elegant. They use to display grunge dirt background around a particular object that they want to highlight.
Shiny & glossy, colorful designs usually have been customized for children's brands. On the other hand grunge designs are gaining popularity and become trendier because of new generation interests. Grunge elements are very famous for books covers, websites, rock stars' music's and other interior themes. That is very appealing.
8. Smoke Textures
Smoke Textures have an 8th position in the trendy elements chart of graphic designing. Either a designer use smokes texture as background or as an overlay they give it full of mysterious with magnificent lake. Smoky texture elements are not obliviously used in the forefront rather they are being used in back side as a background.
9. Water Splatter
Last but not the least is water splatter technique, which is having a 9th place of the queue. Water Splatter is a technique, in which designers add affect of water droplets and splashes amended with other elements of designing pallet.
Conclusion
In the modern era of technology where technology has made everyone so much busy and people has left the habit of reading. Graphic designing has given new innovation in textile & designing industry. It has become an integral part of society. Most appealing things about graphics are that they are capable of building a sense even for laymen.

Connect With Us
Search
Recent Posts