Aspects of Event Management System Software
Event Management System is software that is a great innovation in Management field. EMS have made new way of organizing & managing events. EMS software covers all major functions in event planning life cycle. It offers facilities of online registration, budgeting, booking, events history, exhibitors/sponsors/speakers management.
The product market-driven approach is deliberately designed for the events industry. Event Management System is all about covering a function online, that's included the advertisement of the event, registration, coverage of event & after execution survey and feedback about the event. The Event Management System software is fully outfitted with all the features & sub modules that make it extraordinary. Their single databases for gathering all core actions make its accuracy in reports generations.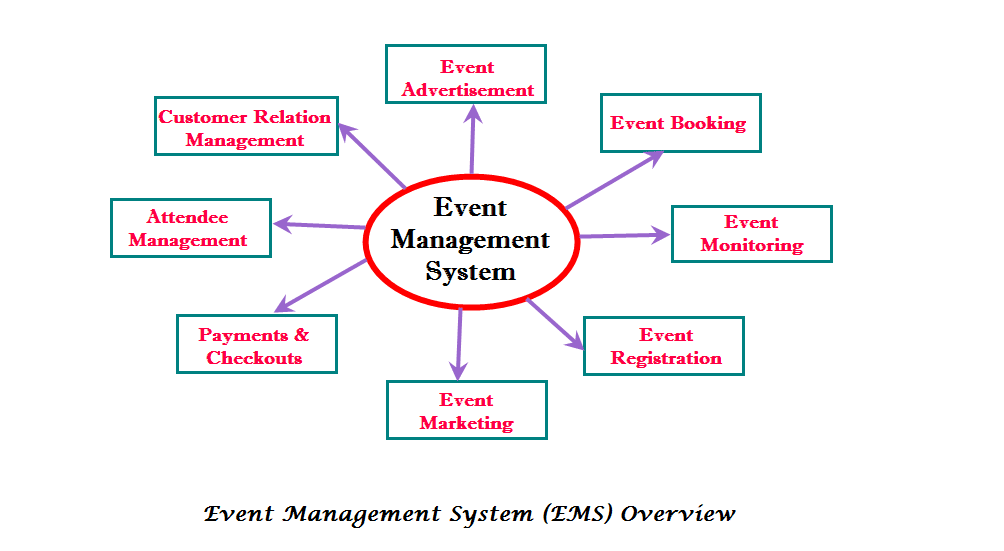 Sub-Modules of Event Management System
Event Management System is structured with lots of sub modules & some of them are listed here:
Attendee Management System
Events Booking System
Events Management
Payment & Checkouts System
Customer Relationship Management (CRM)
Event History Records
Social Advertisement of events
Events Online Registration
Events Marketing

Features of Event Management System
Event Management System has provided ease in the large as well as smaller organizations to market in a better way & manages all complex workflows associated with event management. There is a huge list of Event Management System features. Here are some of them:
Secure payment process
Powerful integration among sub modules
Marketing of events on all social media site
Scheduling of resources utilized in event
Online registration of Attendee
Online selling of tickets of events
Single database system provide centralized access to all resources
Streamline workflow of all events
Online payments collection provide ease to attendees & visitors to get register from all over the world
Keep records of events history
After events successful execution survey & feedbacks to make improvements for next time
Management of wait list about over sold events
Automation of notifications about events
No extra charges of transaction& invoices
Customized setting features about events notifications
Improve visiting experience of attendees
Event Management System provides you user friendly & cost effective properties for events managements. Because of a large number of sub module's integration in EMS, organizations can customize these sub modules as per their demands.
Conclusion
So we can conclude that Event Management System has customized lots of activities related to the event life cycle in a single database system. These technology advancements in management, industry are appreciated able. And the companies that are adopting these changes are making their survival un-extinct. At last we can say that EMS application is best in its own way of providing a new edge to management industry. These changes are not only recommendable in their features, but also booming new traditions of raising income growth.

Connect With Us
Search
Recent Posts