10 Key Benefits of ERP Accounting Software Adoption for your Business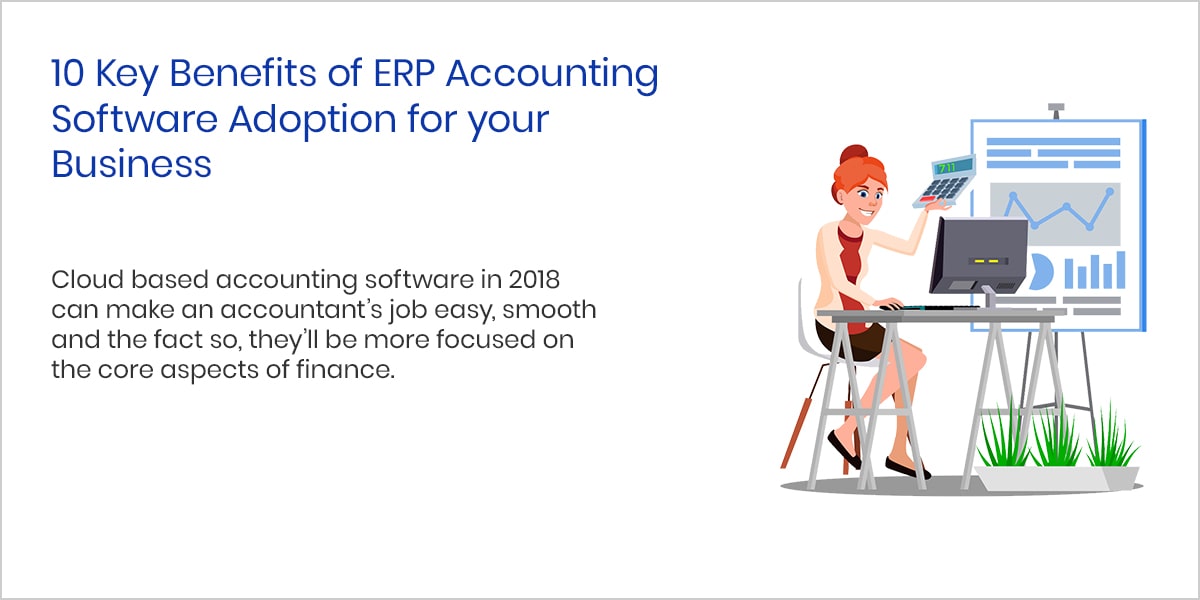 Today, more organizations are adopting
ERP accounting software
to access real-time business information from any available devices simply with an internet connection. Such software is specially designed to manage different aspects related to the company's operations. When you want to access data, it is simple to access your software through the available device. Every operation can be easily automated with the easy flow of information. Accounting was quite boring with a lot of repetitive tasks that may consume quality time. ERP solutions make it easier so the productivity of accounting staff can be increased.
Cloud based accounting software
in 2020 can make an accountant's job easy, smooth and the fact so, they'll be more focused on the core aspects of finance. Irrespective to the size of an organization, finance and accounts management software will automatically modify the entire procedure towards betterment.
How an ERP Accounting Software Benefits your Organization?
Time-Saving
Efficient accounts management solution can make speed up most of your processes. Every calculation is performed quicker with more accuracy. Let's suppose an accountant is consuming hours in maintaining previous records. But software can manage it all in seconds with more accuracy. Time-saving approach is the most significant approach to adopt
cloud based ERP accounting software
for any organization.
Improved Accuracy
Another reason is operational accuracy. In the accounting industry, you're handling multiple procedures and every single mistake can cause you heavy during analysis and transaction. Even the experienced finance manager is not committed to eliminating errors 100%. Machine calculation has reduced the chances of errors during data entry and analysis. Software solutions are specially designed and developed to eliminate errors in calculations and statements that are the most complicated tasks. Implementation of the right solution won't let you down in this regard.
Cost Reduction
Like every other tool, accounting solution requires handsome investment and worth it. The features of the software are according to your investment, if you're using the paid version of any software you'll be able to get more features. In the case of cloud based finance software, you'll pay only for the features, you wanted to have in your solution. All these features are going to benefit you and your business. No longer need to hire a separate bookkeeper to manage your data and invoices.
Easy Tax Filing
Most of the accountants are afraid of the tax compliance process because it seems quite complicated and confusing. It involves different calculations and management of numerous items. You need to keep track of all invoices and transactions for easy compliance. An
ERP accounting software
automatically organizes all receipts and invoices for an organization that enables smooth tax filing and compliance process. Organized process makes it easier to manage during tax and audit season.
Streamline Integration
Today's finance management tools offer multiple integrations that could be used by the company for easy management. It also includes the customer relationship management software as well as human resource management solution. ERP solutions don't need a separate system and installation of every single solution. You can simply integrate the required modules with multiple functionalities. An HRM and CRM can also be integrated with financial management software and enable streamline informational flow within all departments.
Tranquil Reporting
Accounts management software can offer multiple reporting features at the same time. Most of the accounts management solution own built0in functionality of data analysis and reporting. Reporting is essentially required by the accounts department but performing it manually could be time-consuming. So, software solution help in eliminating such time and offer you comprehensive reporting with few clicks.
Stress-free Invoicing
One of the most tedious tasks in the accounts department is invoice management as well as creation.
ERP accounting software
has simplified it for your business. It automatically generates invoices according to the requirements with no errors. You just need to enter data and customized reports will be generated with a few clicks. No longer time needs to spend on record and payment research.
Financial Statements
Financial statements of a business include all important statements i.e. complete balance sheet, profit and loss records etc. All of these statements can be utilized by the stakeholders of an organization to figure out the financial condition of the organization.  Acknowledging the financial condition of an organization is important for effective decision making.An
ERP based finance software
is connected to all departments and can review all financial transactions that need to comply on time. It helps in reflecting the position of the real-time account of the company with a clear view for all stakeholders.
Scalability
Most of the cloud based accounts management software are easily scalable. If you're adopting an accounts solution for a small company or a startup. There is no need to switch when the company starting expanding its routine operations and size.None of the organization will stay in the same position for a longer time period or forever. Therefore, software scalability can secure the owners from unexpected and rapid investments of time and money. No longer need to find more investment for new software but can simply scale up as required.
Accessibility
Cloud based finance solutions are easy to access through any devices from anyplace at any time. All of the data is stored in a secure database form an employee that is convenient to access as needed. This is the most important benefit that encourages the companies to adopt the right software at right time. If you need crucial information during traveling ERP solutions provide you everything on an immediate basis through any Android or iOS device.
To Conclude
There is no excuse for any organization to remain to adopt old accounting tools. You have to invest in a right software that cut down business costs. SolutionDots Systems is offering the best
ERP accounting software
for your business whether you have 15 or 200 workers. We are offering a powerful solution to enhance all your business operations and streamline significant tasks beyond your imagination.

Connect With Us
Search
Recent Posts