RetailCloud: Ultimate Retail ERP Solutions for Every Small Business Owner Needed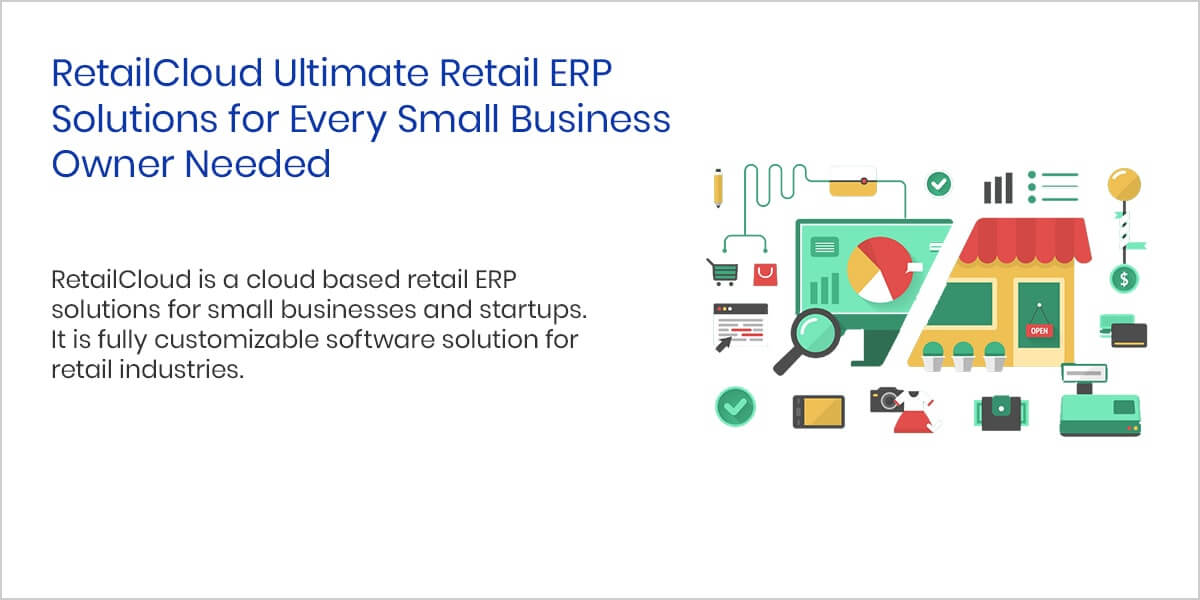 The international market is focused on ERP software solutions for their businesses. However, the huge range of large business owners is rapidly implementing software solutions. But still, small business owners are finding it difficult to have a solution perfectly match their requirements. The best
retail ERP solutions
for small businesses need to be cost-effective and fully functional to manage core operations. The best software innovators are the ones available in the market to fulfill all business as well as industrial needs. When it comes to software for SMBs RetailCloud is currently appears the best solution according to the performances and comparison.In Saudi Arabia, RetailCloud is the best cloud based ERP solution specifically for SMBs and startups. It is a customizable software for retail and manufacturing industry of Saudi Arabia.
How RetailCloud is Beneficial for a Small Business?
Customizable
RetailCloud is fully customizable software requires no additional cost for customers in Saudi Arabia. Software service provider will automatically customize it according to customer's requirements and business specifications.
Streamlined Modules
Software is offering an unlimited list of simple modules that keep the departments connected. Every information is easily accessible in an organized way. Small businesses need it necessary to build a strong connection between different departments and employees.
User-Friendly Interface
The user-friendly interface of
retail ERP solutions
makes it easy for employees to get familiar. No additional effort is required to learn the usage process. Everything is available in the form of menus and sidebars.
Enhanced Security
All of your retail business and employee data is stored within a single database in the cloud. So, data security is guaranteed. There is no more fear of data breaching because the service provider is managing it from their own end with the different level of security measures.
Affordable Price
Investment is the major problem of a small business owner and RetailCloud is solving it on your behalf. It is offering a price that is much affordable for owners. The retailer can avail an offer that includes customizable features, the fully functional solution in quite affordable prices.
Multiple Device Accessibility
Cloud-based retail ERP solutions
usually compatible with different devices like desktop and smart gadgets. It is now easy to track all your business functionalities and operations from anywhere anytime.
Quick View of RetailCloud Modules
Let's have a look into core integrated modules of RetailCloud to know more about its proposal:
Accounting
Finance management department is needed to accomplish business needs and customer's expectations. Every transaction needs to track for follow-up. Furthermore, business expenses, receipts, sales, purchase, debit and credit record also need to be managed with easy filtration.It also includes invoice summaries, tax management and all payable as well as receivables. Easy calculations are helpful for SMBs owners to keep an eye on all calculations. Instead of hiring accounts specialists at the very initial stage you can secure your time and investment with right software adoption.
Human Resources Management
Human resource management module is compulsory for an organization to manage its employees and ensure regulatory discipline. In this module employees records, performance and personal information can be managed easily. Organization's standards like working hours, leave and attendance policy can be planned and managed easily.In small businesses, an employee's performance monitoring is important to calculate growth ratio. RetailCloud also offers the customization of HRM to business core.
Sales & Purchase Management
In the retail business, sales and purchase management module allows you to track every single aspect of your business sales. This module helps in creating invoices, orders and Performa invoices for all suppliers and customers. You just need to enter all relevant data and document will be prepared automatically. It eliminates the hassle of manual document and invoice preparation.
Customer Services
Customer services module is an important requirement of retail business. Therefore, RetailCloud is offering customer service module in
retail ERP solutions
. Customer relationship management module is easy to access and keep complete transaction as well as complaint history of every individual customer. Customer service module makes it easy for the business as well as owner to track each and every request. Keeping customer engaged by resolving all of their problems necessary for a business to keep its reputation.
Inventory Management
The retail industry is all about efficient inventory and purchase management. This module support in keeping all inventory organized and available. If any product found unavailable, the system will automatically notify and ensure its availability at the right place. All of your stock will be managed automatically.
To Conclude
Retail ERP solutions
are created for small businesses specified to the retail industry and all of its concerns. It offers an ease of access with multiple devices and functionalities. This is a unique solution allows improving business operations. It has improved the transparency and efficiency for all aspects of the business.

Connect With Us
Search
Recent Posts