HR Payroll System Vendor – Questions Required To Ask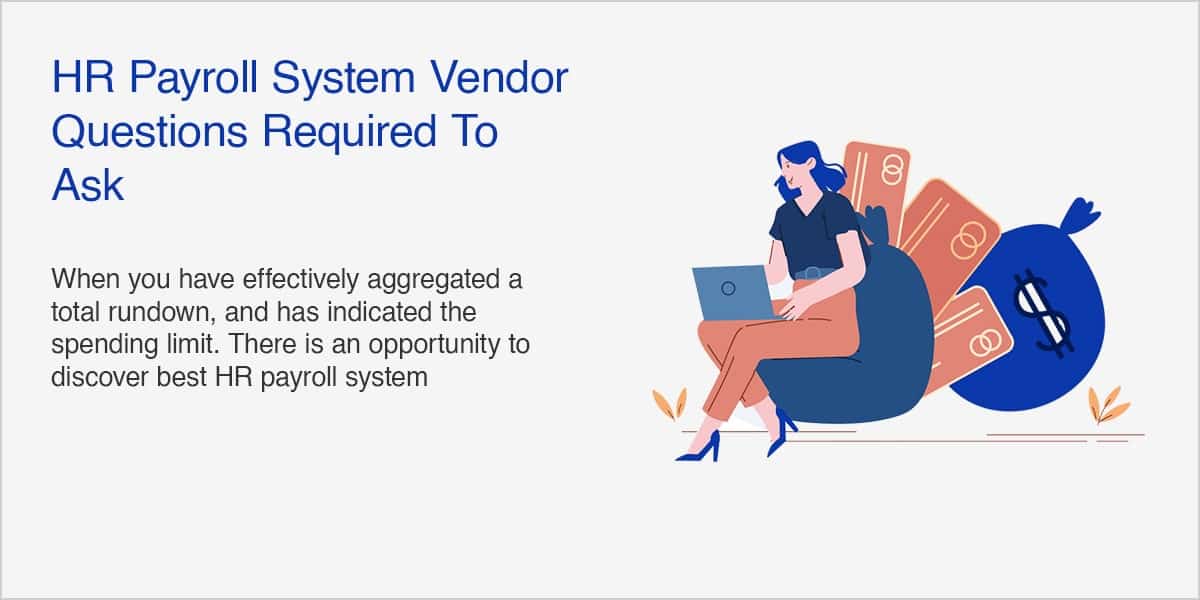 Whether you own any type of business, it is important to acknowledge its core requirements. Being a business owner it is essential to get a complete idea regarding core requirement for a software implementation. This requirement should include a current and upcoming list of features. Once you've successfully compiled a complete list, and has specified the budget. There is a time to find out best HR payroll system that meets all expectations. While finding out the best software, you need to ask different questions to ensure your selection. Relevant questions will drive towards a potential solution.
Top 5 Questions for HR Payroll System Selection
Here are few questions that a business owner should ask from vendors to make right payroll software selection.
Q. What Type Of HR Payroll System Are Actually Offered By Vendor?
Find out the services and features your payroll software vendor is offering. Compare your list of requirement along with the features offered by the vendor. If you're seeking around to have a solution that meets your core requirements don't relay to other's experience. Ask in detail to compare the services according to your own requirement. HR payroll system is not limited to payroll preparation but offers a variety of other features.
Q. How Much is your Experience in Providing Services?
There are thousands of human resource management software vendors available in the market. It is good to have an idea about service provider's overall experience. Working experience in the industry is important to know before making the final selection. If a software vendor is serving industry for years it is well-aware with industrial rise and fall. They'll provide solution accordingly. An experienced vendor is more reliable to provide relevant services in an efficient way.
Q. Is HR Payroll Software Is Developed With User-Friendly Approach?
While making a selection of HR payroll software, ensure its user-friendliness. If an organization is not taking care of user-friendliness of a software. It requires staff training separately or may increase operational complexity. Therefore, while making your purchase, make it sure that software is easy to use from both ends. It could be easily used by staff before any specific training. It should bring innovation and automation but shouldn't increase the complications.
Q. How you're Charging for Payroll Software Services?
Every business has allocated a specific budget for HR payroll system after completing market research. Now it should be asked by the vendor regarding their payment procedure. It is important to ask how many features are available in that specific amount. Payment procedure should be transparent enough in explaining all details including taxes and others.
Q. What kind of Support are you Offering?
If you're having an HR management software, don't your employees for granted. There is no need to hire technical staff separately. Ask from the vendor, regarding technical support. In case of any difficulty making it clear how much time is required to resolve the issue. Ask from the HR payroll system vendor what their minimum time limit to response the query is?
Selection of right HR payroll system is undeniably an important decision of a business. It is a big investment that should be long-term. Therefore, ask all relevant questions to clear your confusion and get a potential solution.

Connect With Us
Search
Recent Posts