Enhance Recruitment Processes with Recruitment Management System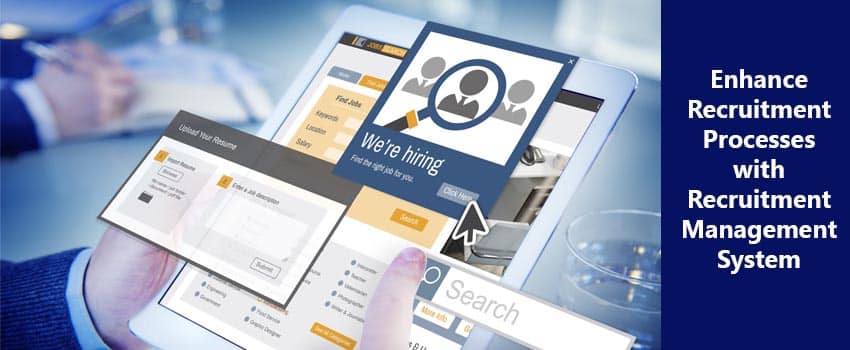 Recruitment is today's one of the most important processes of human resource department. Importance of this process couldn't be denied though all procedure. Hiring best talent is becoming a crucial thing that consumes a lot of time. Hiring is not a simple thing but requires a streamlined procedure that drives towards right talent. Human resource managers are realizing the worth of automatic procedures. Therefore, HR professionals are rapidly adopting cloud based software solutions to streamline the hiring procedure in a corporative way. Recruiting software helps the recruiter in streamlining all internal and external procedures.
Recruitment management system
has automated candidate search, applicant tracking, and all other procedures. Initially, this system was developed for resume management and candidate shortlisting. But with the passage of time, it's integration has automated most of the recruitment tasks.Variety of features are now integrated with recruitment software that could be easily emerging with upcoming and current recruiting trends. Today's software has a wider impact on candidate management as well as tracking.
Online recruitment software
nowadays is integrated with a website. Candidate's complete profile could be accessed and review before making the section. It is becoming today's most reliable solution for consultants and the organizations. Some of the significant procedures for software solution integration are:
Streamlined Recruitment Procedure
Centralized Database
Boost Recruiter Productivity
Transparency in Recruitment Procedure
Enhanced Collaboration
Cost Reduction
Aspects of recruitment management system are not same for all businesses. If we talk about benefits, they're different according to business niche and type.
Online recruitment software
encourages paperless environment within the organization and enhances recruiter's productivity.During the hiring procedure that their variety of things require recruiter's attention. They have to improve complete recruitment procedure on the selection of software. An employer doesn't need to work complete 12 hours to ensure productivity. Smart recruiter ensures to work smartly in minimum time with automation. They could be more productive if work dynamically. Smart recruiting just require streamlining tasks, maximum efficiency, and smooth calculations. All things are provided with the support of recruitment software and offer seamless employer and applicant experience.
How Recruitment Management System Support in Smart Working?
Recruitment management system
effectively supports a business in attaining all of their objectives. Some of the important management features are enlisted below: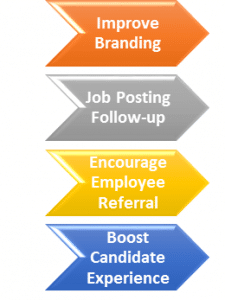 Improve Branding
Hiring right and quality talent for your organization is same as having potential customers connected to the business. You need to present streamline procedures to enhance candidate's experience. During the hiring procedure, candidate's positive experience is important for brand recognition. Therefore, it is necessary to include branding practices within the procedure. Make it habit to have productive conversations with interesting questions. Recruitment software encourages the practice of right and productive questions. A candidate passing through the process with good experience could be effective in branding.There are a lot of software available in the market like
RectBox
that plays an important role in business branding. You need to purchase software for your business and simply incorporate it into your website. Hiring candidate for your business is an important decision for your business therefore, it is important to connect to reliable software.
Job Posting Follow-up
Appointment of right talent through
recruiting software
is gradually becoming a trend. Today's candidate gets attracted towards interesting and unique job advertisements. If you're posting a simple uninteresting advertisement with no details, remember it worth nothing for your potential candidate. Right, and the potential candidate gets attraction only if an advertisement leaves an impact with a detailed description. Remember! A potential candidate isn't only concerned with the salary but also interested in the opportunity for career development. Through an advertisement, their contribution to business growth should be clearer. Within a job, advertisement candidate should get understanding regarding business expectations.
Encourage Employee Referral
One of the major hiring sources for any business is referral hiring. Such hiring is important because it will be easier to track candidate. Usually, employees are not interested in providing any referral because they might not are satisfied or involved. Therefore, human resource professionals to pay attention to staff engagement. Recruitment management system is a perfect solution to engage your staff positively and boost referral. Motivate your available staff to provide references in a variety of ways.
Boost Candidate Experience
Candidate experience is a thing that usually neglected by the hiring manager. It leaves a strong impact to brand recognition. So, it is important to provide an enhanced experience to your candidates. This experience could be positively enhanced by avoiding unnecessary questioning. It is important to value candidate's time like your own. Don't let them a week for hours because it may leave a bad organizational impact. Applicant tracking software support in providing a personalized experience. Improve their experience by sharing useful information associated with the brand and avoid the chances of inconvenience.
Final Thoughts
Time management is one of the most important components of recruitment procedure. Recruitment management system ensures to support hiring managers in aligning tasks according to its priority level. This priority setting support in time management and speed up the candidate's procedure accordingly. RectBox is the most recommended software in Saudi Arabia and the Middle East. Thousands of companies are using it to enhance their recruitment procedure.

Connect With Us
Search
Recent Posts