NextTotal: An Ultimate Solution by SolutionDots Systems to Improve Restaurant Profitability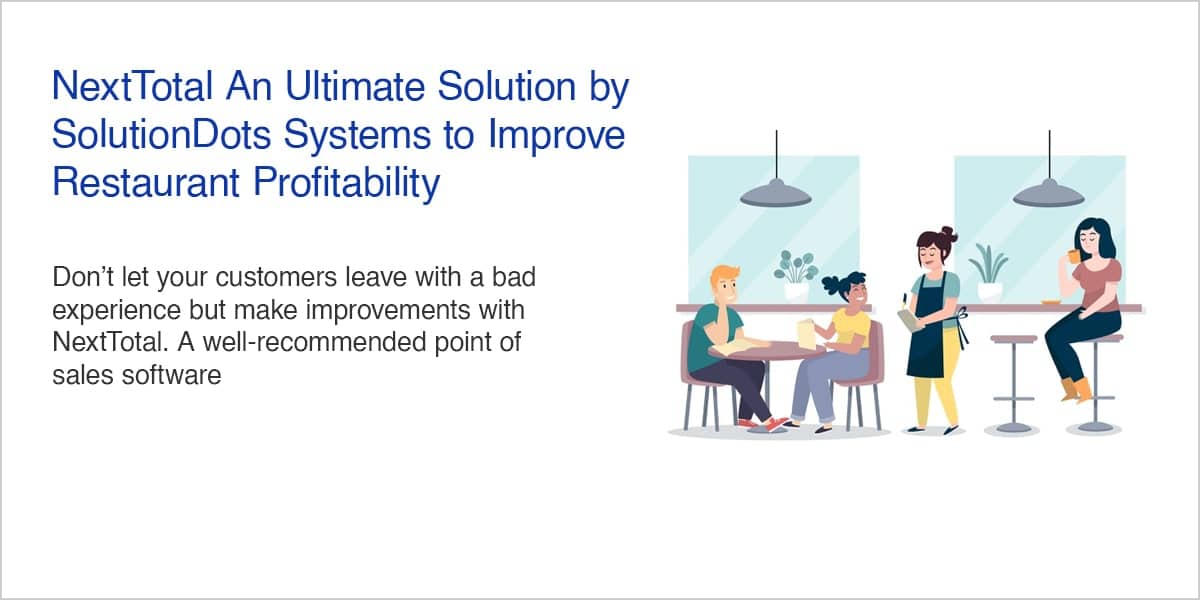 In every restaurant, business success is always dependent on what you've special and different in your box. You might offer good food, different recipes, and special dishes. But seriously this is not enough for continues success factor. You've to work a lot for the long-term success of your business by providing quality services along with good food that could be maintained through effective planning. You have to follow trends to meet your customer's expectations and establish a strong relationship with long-term connectivity. In order to fulfill all customer's expectations, you have to provide them with healthy food, atmosphere, corporative staff and select the right software to manage all operations smoothly. These are the important factors to attain a certain level of success. Make improvements in your strategies and take technological support to reach a higher level of success. These are the points where NextTotal is going to help you at different stages. It is not only providing technological support and improving customer services but also helping in enhancing existing strategies.
How NextTotal is Improving Restaurant Profitability?
Updates Technology Solution
There is no doubt that the success of hospitality business is dependent on its operational management. Therefore, it is necessary to stay aware of all the tools of modern technology and select the best one for your business. We understand that the greatest hassle for any restaurant is maintenance as well as management of its inventory. It seems quite difficult to manage the inventory from different branches and lack of tracking may create discrepancies in stock or billing. NextTotal is offering an inventory management module to manage and monitor all of your stock whether places in single or multiple places.
Point of Sales Software
Restaurant
point of sales
software is strongly needed to handle the complete processes at all outlets. This solution improves the efficiency of serving customers with quick actions. We are offering a complete POS solution needed by every restaurant to speed up its process and manages even in rush hours. It eliminates the miss understandings and confusion in any of the processes. No need to get worried about your team efficiency and productivity, NextTotal will do it all for you. All details related to raw material, its usage, management, and daily requirements. POS solution enables you to watch every trend and point that need improvements with reporting functionality. Get all insights related to consumer behavior avoid unnecessary wastage of money.
Menu Pricing Strategy and Management
Smartly planned menu is becoming an essential need for every restaurant. This is one of the most important areas that should not be avoided. The strength of the menu is important to attract customers and keep them engaged. You should keep it updated according to promotions and categories. Include exciting flavors and introduces new items occasionally. Your menu format, presentations, and items encourage customers to view and purchase. Complimentary offers also encourage them to prefer you competitively.
Point of sales
solutions are rapidly improving menu visibility and attracting customers. Display ingredients list in the menu to simplify the selection process. You can plan strategies for efficient serving to customers. Attractive prices, happy hours and serving timing can be updated according to the customer's choice. So, redesigning and updating pricing is highly possible with right software selection.
Design Marketing Plan
NextTotal is not only supporting in serving customers and improving routine operations but also modifying marketing strategies. Social media is a strong marketing platform to keep people aware of your business. You can attain the attention of the audience by posting different pictures, collecting and sharing existing customer's feedback. Nowadays these are the important marketing factors to expand your business. Digital marketing is not a difficult thing in the availability of NextTotal. You can maintain the list of your potential customers and ask them for reviews to share it with your audience. Customers can now easily make online reservations. Nowadays the importance of building and maintaining an online reputation to attract customers and building a long-term relationship. Its reporting feature is going to support in planning most effective marketing promotions. Well-planned promotion strategies are beneficial to grab the attention of targeted audiences. It is easy to create special offers and spread it through social media to encourage the crowd.
To Conclude
A satisfied customer is always the best way to promote your business. NextTotal is not just a point of sales software but an approach to keep your customers satisfied and increase their loyalty. It helps in keeping an eye on existing customers and improve business sales by maintaining their loyalty. Customers always look around for exited and interesting experience so, don't let them down. Offer them exceptional services with a right technology solution. It helps in boosting your business sales and productivity.

Connect With Us
Search
Recent Posts