How to Choose Cloud Digital Asset Management Software for Company?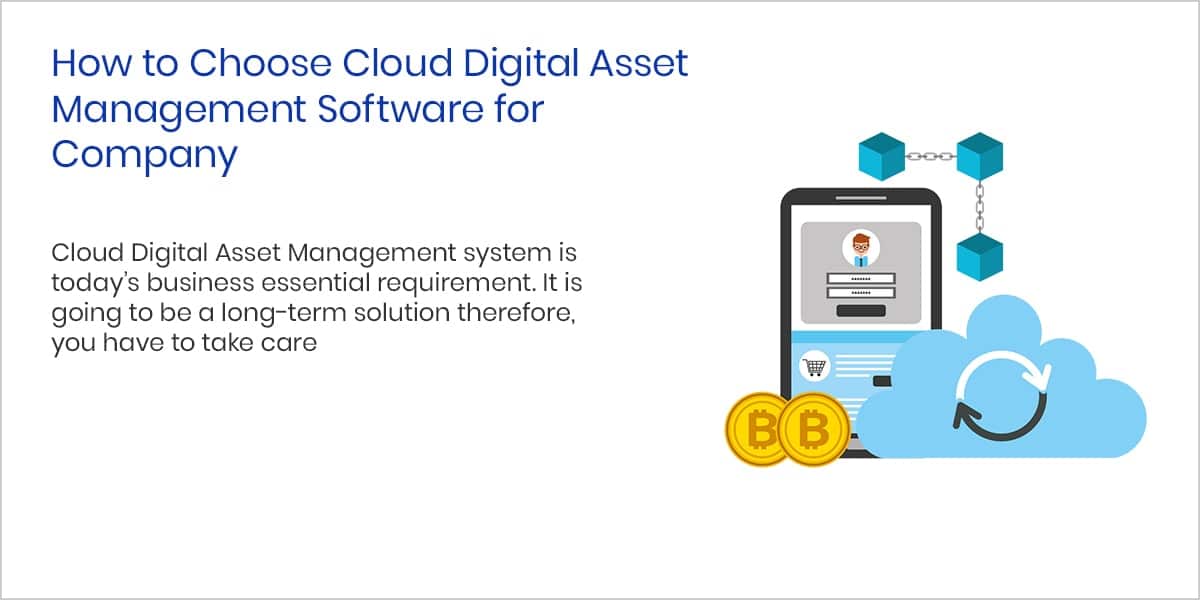 Today, asset management is important for all large and small businesses. It helps to track and manage organizational equipment in the right way. Manual handling of asset seems an easy and cost-effective process but it may result in loss of important equipment. Therefore, cloud digital asset management software is needed to efficiently manage existing resources and save valuable time for the organization and employees.
If you're selecting the software for the first time, it is essential to keep certain things in mind to get more specified and right solution.

Why is Cloud Digital Asset Management Software Designed?
A cloud based asset management system is specially designed to help companies in an efficient monitoring and maintenance of all available resources. You can compile all relevant information including item purchased, value, maintenance schedule, physical location and usage history etc. All information is easily and automatically managed within the software.
Cloud based software means information is easily accessible from any location through an internet connection. It tends to keep information more flexible, up-to-date and accessible.
Why Should I Consider An Asset Management Software?
Implementation of an asset management system is quite challenging for an organization because you have to recognize whether your business needs it or not. Identification of problems with manual resource management is important before moving towards an updated solution. If you're finding it difficult to manage resources and data with manual procedure, this is a right time to implement the right solution. Tracking of data and resources is a headache and create unlimited problems for your business including loss of important data, financial deficits, data inaccessibility etc. The situation can be worse than imagined. Therefore, it is necessary to contact the consultants for the implementation of the right asset management software.
Here are few signs that encourage a business to adopt resource management solution.
Data Duplication
Data replication is the greatest hurdle in an efficient resource management. Let's suppose you have a meeting and need to pull all asset record with details. Now there is no time to review and segregate data and you're pulling all data. Here comes duplication of data that might be outdated too. If you're encountering such problem, time to reconsider your existing software and update accordingly.
Content Control
You're having outdated content with wrong details can create a serious problem. If you're printing invoices with the old logo and quoting wrong rates to the customer as they're not updated in the file. It seems a small mistake but creates a problem and company have to face a challenging situation. Such situations are critical especially for marketing teams to manage. Therefore, cloud digital asset management software is becoming an essential tool to control content in an organized way.
Sharing of Large Files
Transferring spreadsheets and files within an office in the traditional way is causing collaboration challenges. You have to attach a file to the system, in case of large files there is a need to split it into two emails otherwise it will bounce back. This is not an effective way of communication and data sharing. An asset management solution makes it easier to collaborate.
How To Select Right Cloud Digital Asset Management?
Once you've successfully recognized the need to adopt asset management software, this is a time to find software that fits a company's requirements. It is difficult to have the perfect solution, therefore, we've enlisted few tips to ensure that you're selecting a solution best for you.
Determine Requirements & Stakeholders
It is important to determine your requirements as well as the people who are going to use the software. Implementation of cloud digital asset management system will impact to whom in order to complete their jobs. What functionalities and features are required? You have to understand the requirements, its impact and most importantly the budget. It helps in understanding how the software is going to benefit your business.
Understand the Restrictions
Once you've understood the features and get an acknowledgment of users. The next step is to think about the access that you've to provide a specific group and people. What type of restrictions are needed while using the software? These restrictions have an ability to segregate the groups of employees and management etc.
Realistic Timelines
Setting realistic timelines seems to be tricky but necessary. You may have to face pressure from the vendor and internal business departments. Integration of this tools according to business needs takes time. You've to discuss the details with stakeholders and ensure successful delivery.
Select the Vendor
While selecting a vendor, make sure that this is not a onetime purchase. You've to keep in touch with your cloud digital asset management software vendor for additional functionalities and support. Therefore, align your directions and discuss the future goals by considering them your partners.

Connect With Us
Search
Recent Posts